Coalition of Geospatial Organizations (COGO)
Grading the data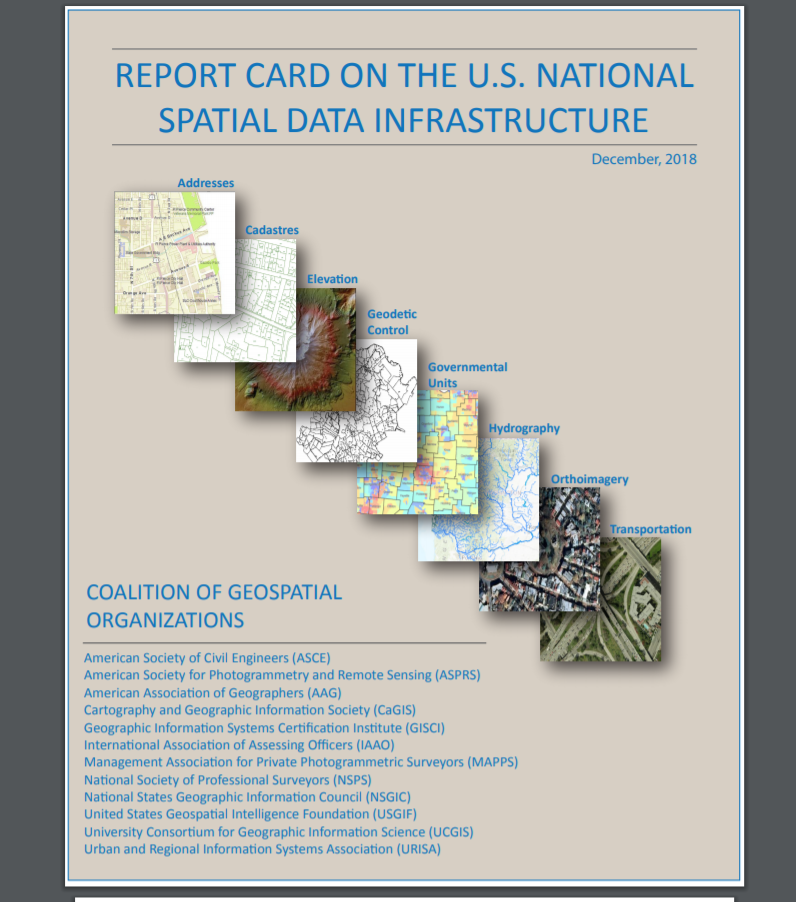 At the end of 2018, the Coalition of Geospatial Organizations (COGO) released its latest review of the U.S. National Spatial Data Infrastructure (NSDI), which assesses the nation's geospatial data infrastructure.
Scott Freundschuh, professor in the Geography and Environmental Studies Department, spent 18 months chairing the steering committee and then editing the report card. "It was a fascinating experience to bring together Federal Agencies and COGO member organizations, about 50 people in total, to work together assessing the Nation's NSDI," he said.
COGO consists of organizations representing more than 170,000 individual members. Its first NSDI Report Card spurred Congress to action and helped contribute toward the Geospatial Data Act of 2017.
In a press release about the report, COGO noted that the report "leveraged the expertise of selected subject matter experts from the public and private sectors with knowledge in each of the eight national framework data themes: addresses, cadastres, elevation, geodetic controls, governmental units, hydrography, orthoimagery, and transportation."
The NSDI even evaluated itself.
According to the press release, "Each team assessed the developments and advances within their respective themes since the 2015 Report Card and engaged with the Federal Geographic Data Committee for guidance and feedback as they determined new individual scores. The whole NSDI also received its own grade, a B-, reflecting some improvements over its 2015 grade of a C."
Freundschuh is also executive director of the Cartography and Geographic Information Society.
Read the report online at: http://cogo.pro/uploads/2018COGOReportCard.pdf
-By Laura Paskus