News Desk
Intro to Environmental Studies heads outside in Spring 2018
If busting out of the classroom to learn about landscapes and management practices around Albuquerque sounds like the best way to spend eight weeks this spring, hustle up and register for Geography 195.
Introduction to Environmental Studies is a required class for Geography majors, but it will have a radically different format this year, says Department Chair Maria Lane. That's thanks to a grant Melinda Harm Benson secured for the class prior to leaving UNM earlier this year to become dean of the Haub School of Environment and Natural Resources at the University of Wyoming. That grant allows the class to be focused on field study, rather than just classroom lectures.
In Spring 2018, Benjamin Warner will be teaching the course. Warner came to UNM this fall after completing a postdoctoral scholar appointment at the University of Massachusetts in the Department of Geosciences.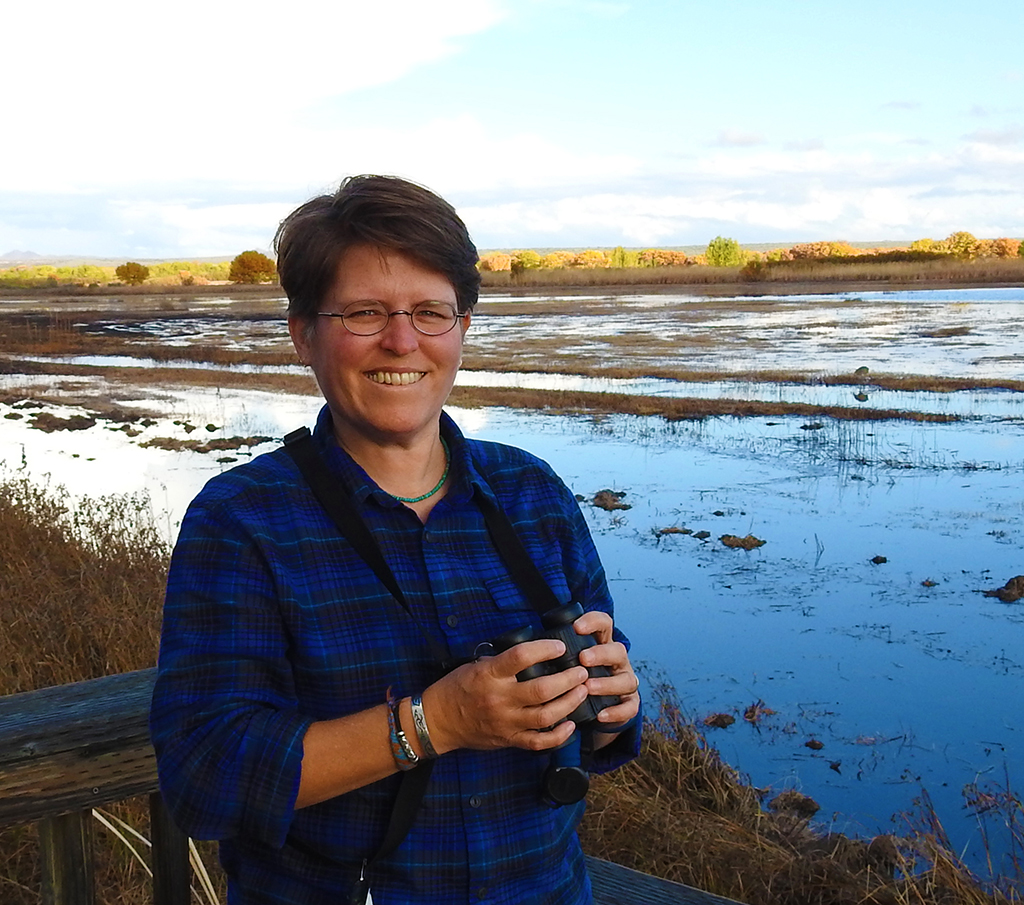 Master's student Laurel Ladwig
While visiting sites like the Rio Grande Nature Center State Park, the Sandia Mountains, and the Valle de Oro National Wildlife Refuge, Warner says that students will have the chance to explore why environmental issues are often so political—and how to solve that problem, starting on a local scale.
"We'll be exploring questions like, 'Why is our relationship with nature often contentious?'" Warner says. At each of the sites, students will try to understand the unique worldviews and values that different stakeholders bring, and how people view problems and issues from a particular place. At each site, students will also explore, says Warner, "how these sites can solve multiple problems with multiple solutions—all in this one place."
Although the class will appeal to students of all levels and disciplines, Warner says that first and foremost, it's a class for undergraduates who are new to geography and environmental studies.
| | |
| --- | --- |
| |      |
| Associate Professor Ben Warner | |
Oftentimes introductory classes provide broad overviews—let's just admit this—so    it's hard for students to feel inspired or passionate about the topic. Starting this spring, Geography 195 will change that for geography majors.
"We wanted to create a class to get people excited about geography and environmental studies as freshmen—instead of having them discover it as a senior like I did," says Laurel Ladwig. Now a graduate student in the department, Ladwig helped Benson design the course as part of an independent study project last year.
"We live in a biotic community and we have so many different habitats in Albuquerque," says Ladwig. "Let's get people out and explore the land around us, and learn about the different ways of interacting with lands, and managing lands."
The class is a second-half spring course that will be held on Thursdays from 1-6 p.m. Students do not have to pay additional fees for the course, and transportation from UNM to the sites will be provided.
-By Laura Paskus