GES on hand as PAÍS breaks ground
Geography & Environmental Studies faculty were on hand for a March 20th groundbreaking ceremony for the new 137,000 ft2 Physics & Astronomy and Interdisciplinary Science building (PAÍS). PAÍS, also the Spanish for word for country or nation, will bring together the Dept. of Physics & Astronomy with six data driven research centers from across the College of Arts & Sciences to foster new collaborations. The centers will house faculty from the departments of Geography & Environmental Studies, Biology, Earth & Planetary Sciences, Anthropology, and Chemistry & Chemical Biology.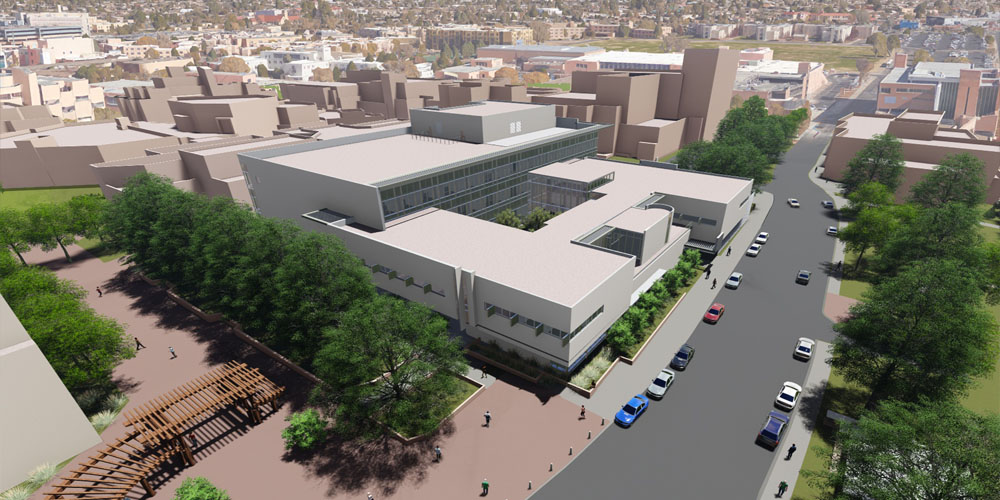 One of the centers, the new center for the Advancement of Spatial Informatics Research and Education (ASPIRE), represents a substantial investment in the Department of Geography & Environmental Studies. ASPIRE will house GIScience faculty, graduate students, undergraduate researchers, and staff, an open graduate spatial computing facility, and a state of the art visualization facility capable of displaying 100 million pixels simultaneously. These new facilities will allow Geography & Environmental Studies students and researchers to collaborate with other cutting edge producers and users of spatial data at UNM, across the state of New Mexico, and beyond.
            At the groundbreaking, UNM president Garnett Stokes and Dean of the College of Arts & Sciences Mark Peceny spoke about the importance of PAÍS to the future of UNM. Geography & Environmental Studies professor Chris Lippitt, in his role as Special Assistant to Associate Dean for Research for Interdisciplinary Research, spoke at the groundbreaking and emphasized the new building's planned co-working space that allows outside collaborators from state and federal cooperators, private industry, and other universities to temporarily co-locate with the centers, creating new bridges from UNM to wider research communities and industry. The building is scheduled to be completed in Fall 2019.