UNM NMSU doctoral program in Geography
UNM, NMSU launch innovative new joint doctoral program in Geography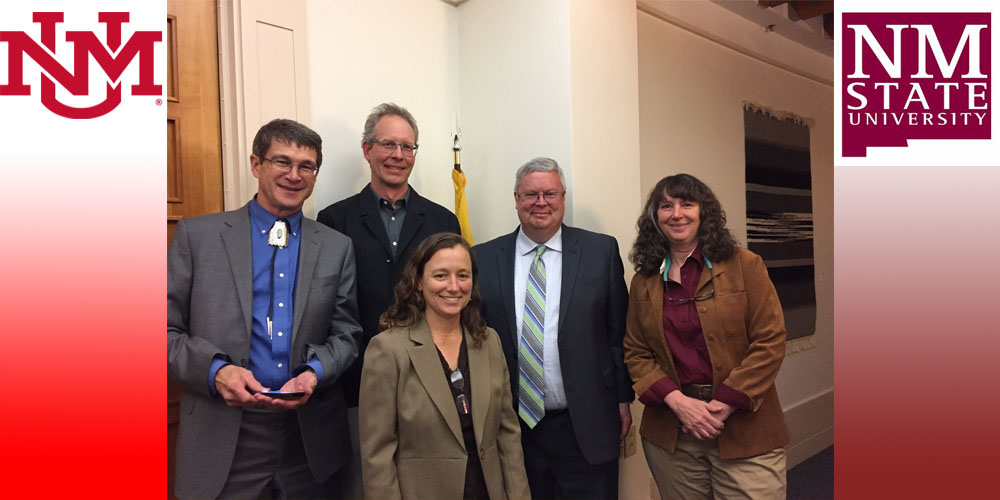 The University of New Mexico has a brand-new PhD program—and so does New Mexico State University. This week, Gov. Michelle Lujan Grisham and the New Mexico Board of Finance unanimously approved the New Mexico Joint Doctoral Program in Geography. This will be the first PhD program in Geography offered at any public or private institution of higher education in the state.
"New Mexico deserves to have a great PhD program in Geography, and we are really excited that the State has approved our proposal," said Dr. K. Maria Lane, the department's outgoing chair. "All of the faculty at UNM and NMSU worked hard to design this program and make it a center for environmental and geospatial research training."
The joint doctoral program is a rigorous research-based program focused on environmental change, dryland resource management, complex cultural landscapes, and the methods needed to understand them. The program will build on existing resources and strengths at the two universities and the new curriculum will respond to complex place-based differences, changing human-environment systems, and the evolving place of higher education in modern society.
Complex cultural landscapes, dryland resource management and environmental change issues all overlap one another in complex ways, and require various methods to understand them.
The single academic program will be delivered jointly at the two campuses, with collaborative participation from both faculties. Courses will allow for cross-enrollment and first-year courses in particular will integrate distance learning technologies with in-person meetings on each campus.
"Now it's time to get to work and get the program up and running," said Dr. Chris Duvall, the incoming chair of the Geography and Environmental Studies Department at UNM. "We hope to attract students from all over New Mexico so they won't leave for other states."
The program will launch in Fall 2020, with the first cohort of PhD students beginning classes in August 2020.