Map of the Month May 2018
Network analysis map hones in on clusters of breweries, taprooms in Abq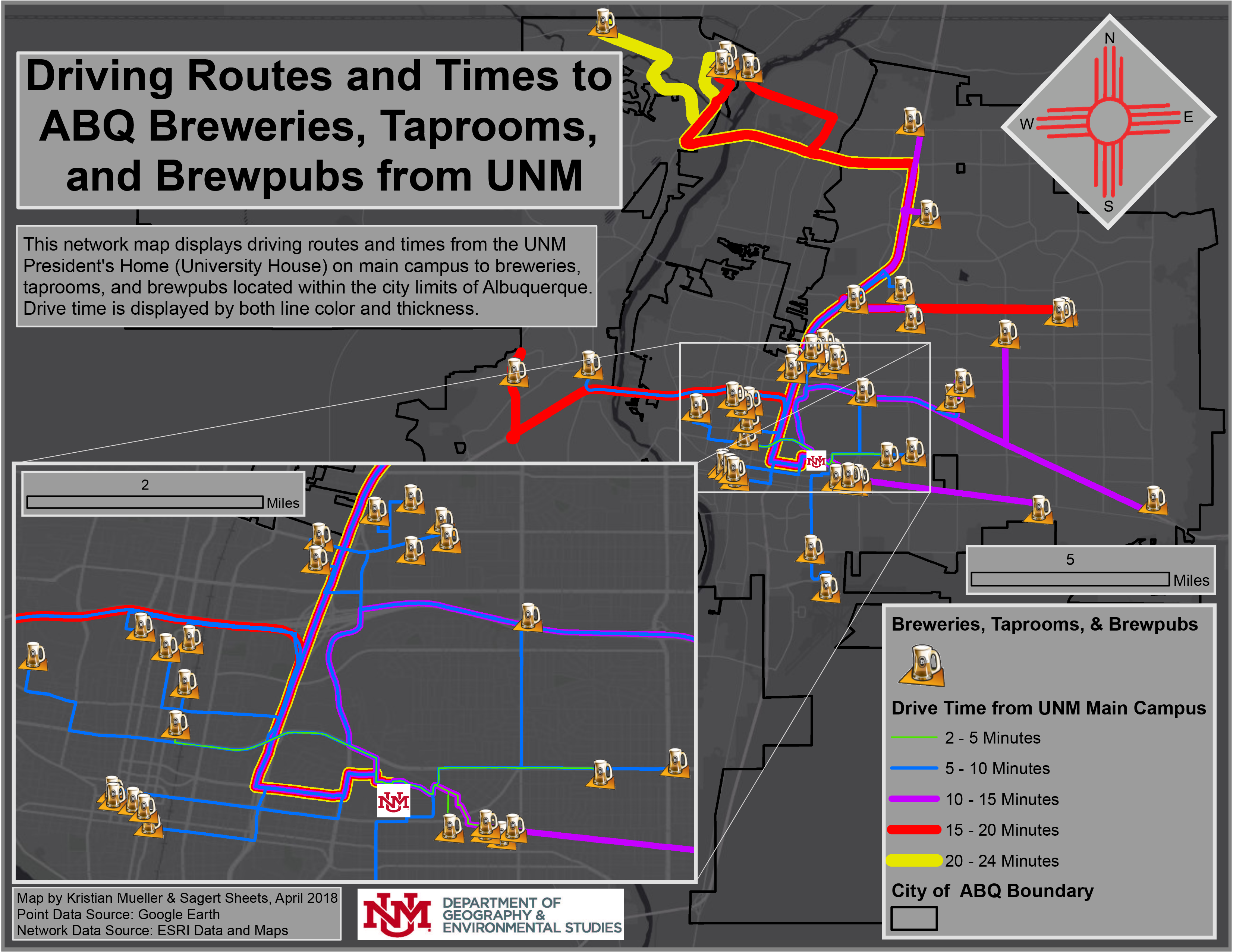 If University of New Mexico President Garnett Stokes finds herself needing a beer, Geography and Environmental Studies graduate student Kristian Mueller has just the right map for her.
Mueller's new map shows distance and travel times to Albuquerque's breweries, brewpubs, and taprooms from the University of New Mexico campus, and specifically, from the President's house.
"I wanted to be able to show there can be a well-designed network map and also bring some attention to our beer class and our department," said Mueller, who is interested in spatial cognition and studying different styles of map representations and their effectiveness. Last semester, Mueller was also the teaching assistant for Geography Department Chair Dr. Maria Lane's popular undergrad class, GEOG180 World of Beer.
"There are a lot of beer maps out there, but this one is different," Lane said. "Network analysis is a cool and more sophisticated way of looking at distance." Network analysis maps calculate distance based on actual routes in a network of streets, as opposed to Euclidean distance.
Lane said the map reveals, for example, how many breweries are close to UNM, Nob Hill, and downtown. "There's been an explosion in the last five years, and that's one of the reasons we started the class," she said. "It's such an interesting phenomenon, and there are a lot of great ways to understand it geographically."
In the class, which will be offered again on Tuesdays and Thursdays during Fall 2018, students learn how breweries are using spatial analysis techniques to make decisions about location, distribution, and how to interact with various mapping platforms like Google and Four Square that customers use regularly. The class also focuses on the historical and regional geographies of beer, environmental geographies like water governance, and the biogeography of beer ingredients.
"It's a great way to think about beer in different ways," Lane said. "People who like beer and know a lot about beer can add to their knowledge with more geography and spatial understanding."
Mueller's map isn't a map people can necessarily use to navigate their way to the nearest bar stool. Rather it illustrates another way of thinking about beer and the density of breweries in particular areas of Albuquerque. "The most important thing is showing the network," he said.
The map will also help with class field trips, said Mueller. Each semester, the class goes along on field trips, including those for students who aren't 21 yet. Mueller and Lane even designed a self-guided public art and urban brewery field trip.
Lane will again be teaching the World of Beer class in the fall semester. Last year's class had 130 students. In fall 2018, GEOG 180 will be on Tuesdays and Thursdays from 12:30-1:45. You can register online at http://schedule.unm.edu/