Featured Map September 2019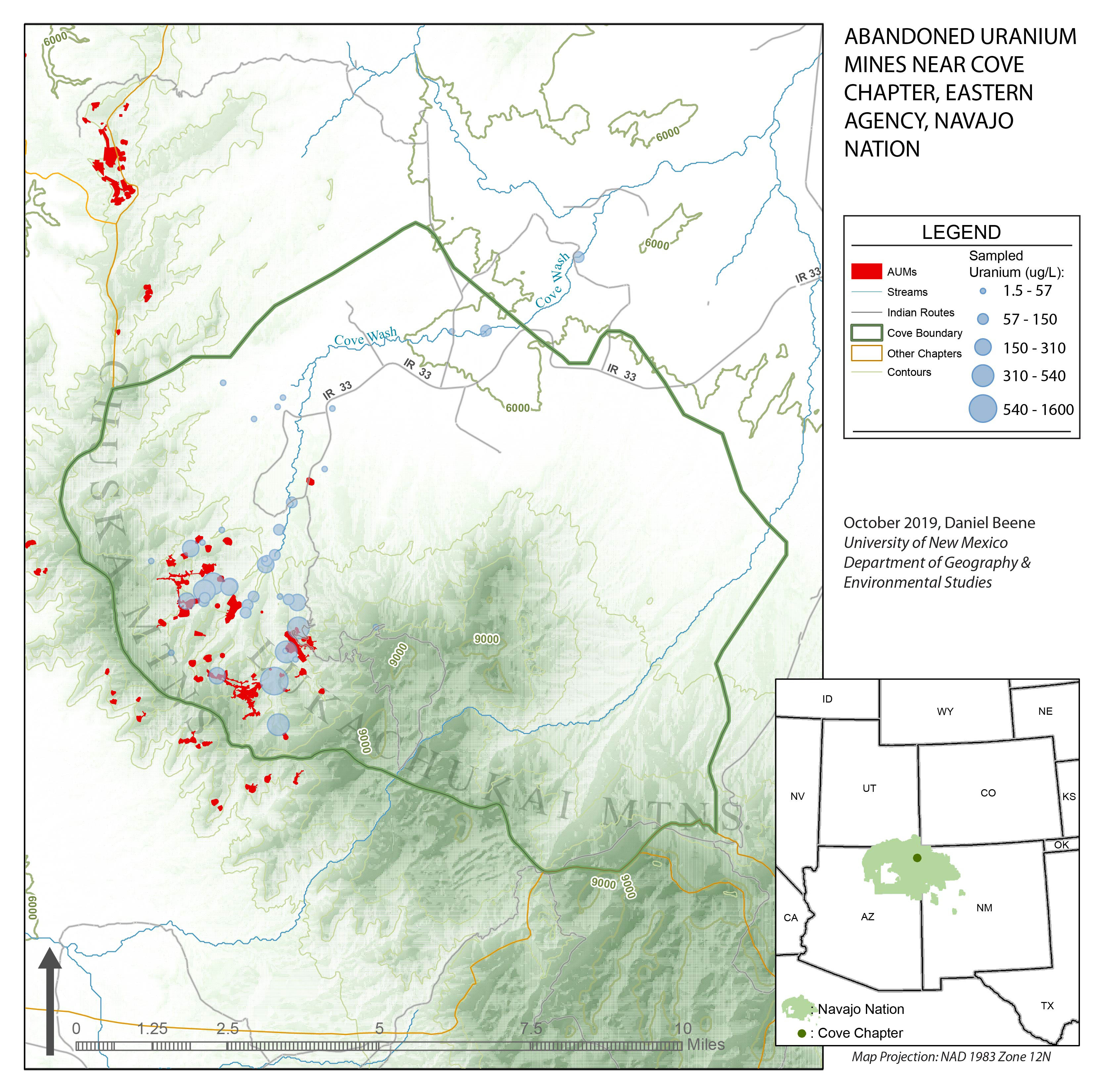 Investigating livestock and human exposure to abandoned uranium mine waste
Uranium mining began on the Navajo Nation began in the 1940s and today there are more than 500 abandoned mines and thousands of mine waste features throughout the Nation.
The legacy of these abandoned mines continues to impact the quality of the environment and human health. 
Led by researchers at Dine' College, the Navajo Nation Tribal College, and in partnership with University of New Mexico, Northern Arizona University, and Montana State University – Billings (MSUB), UNM Co-PI Dr. Yan Lin is leading a group of researchers and students from UNM Geography & Environmental Studies working on this project.
The research project objectives are to:
Model the potential for livestock exposure to waste from abandoned uranium mines (AUMs)
Measure uptake of uranium and other metals in livestock tissues
Evaluate the human health risk of consuming meat and organs from livestock that graze in the AUM impacted Cove Wash Watershed
The Cove Wash Watershed is located in the Lukachukai Mountains, in northeast Arizona.
The community was heavily impacted by historic uranium mining in the mountains that occurred between the late 1940s and 1960s.
While some physical reclamation of the mine sites occurred in the 1990s, there remain AUM waste piles throughout the watershed.
Previous investigations by Dine' College, in partnership with the US EPA Region 9, demonstrated elevated surface water concentrations of uranium in areas downstream of the AUM sites.
Dr. Lin and GES researchers and students are working with Dr. Hoover (formerly GES affiliated faculty now at MSUB) to determine potential livestock exposure to abandoned uranium mine waste. In partnership with livestock owners, the team is collaring and collecting animal behaviors tracks while livestock graze in the Cove Watershed.
The research methods employed will rely on multicriteria analysis, spatio-temporal analysis, and geovisualization to understand potential for livestock to be exposure to AUM waste.
By situating the study in a spatial and human context, their goal is to answer community concerns about livestock exposure to AUM waste and any potential human exposure to contaminants through consumption of traditional foods.