Geography Awareness Week
Geography Awareness Week 2023 will be November 13-17.
Check back for more details!
Last Year's Events:
The Department of Geography and Environmental Studies at the University of New Mexico (UNM) is hosting and co-sponsoring a series of events to celebrate Geography Awareness Week! We are pleased to invite you to attend these great events!
GEOGRAPHY AWARENESS WEEK: November 14-18, 2022
Monday, Nov 14: Geography Awareness Table, UNM Duck Pond, 10 am - 3 pm
Tuesday, Nov 15: ASPRS eCognition Workshop, Bandelier East 106, 9:30 - 11 am
Wednesday, Nov 16 – GIS DAY Symposium

Google Earth Virtual Reality Tour, SUB Atrium, 10 am - 1 pm
GIS tables and demonstrations, SUB Atrium, 9 am - 4 pm
GIS Lightning talks (students, faculty, alums), SUB Ballroom B, 10 am - 11:15 am
Student poster competition, SUB Atrium, 9 am - 4 pm (awards ceremony at 4:30 pm)
ASPIRE Open House (tours, equipment demos, and networking), PAIS Courtyard/Atrium, 4:30 - 6 pm

Thursday, Nov 17: Film Screening, SUB Theatre, 3 pm: Soil, Struggle and Justice: Agroecology in Brazilian Landless Movement, followed by discussion with film director Andreas Hernandez
Friday, Nov 18: Annual Murphy Lecture, by Dr. Juanita Sundberg (University of British Columbia): Unstable Grounds: Desert Soils and Boundary Enforcement at the United States – Mexico Border, Mitchell Hall, Rm 102, 3 - 4 pm,  reception to follow
If you are interested in participating in GIS Day Symposium on November 16 as a presenter, a vendor, or to recruit people to your organization, let us help you get set up properly. Please register or email Theodros Woldeyohannes twoldey94@unm.edu or Dr. Yan Lin yanlin@unm.edu.
For student poster competition, please submit your poster title and your name, or email Theodros Woldeyohannes twoldey94@unm.edu.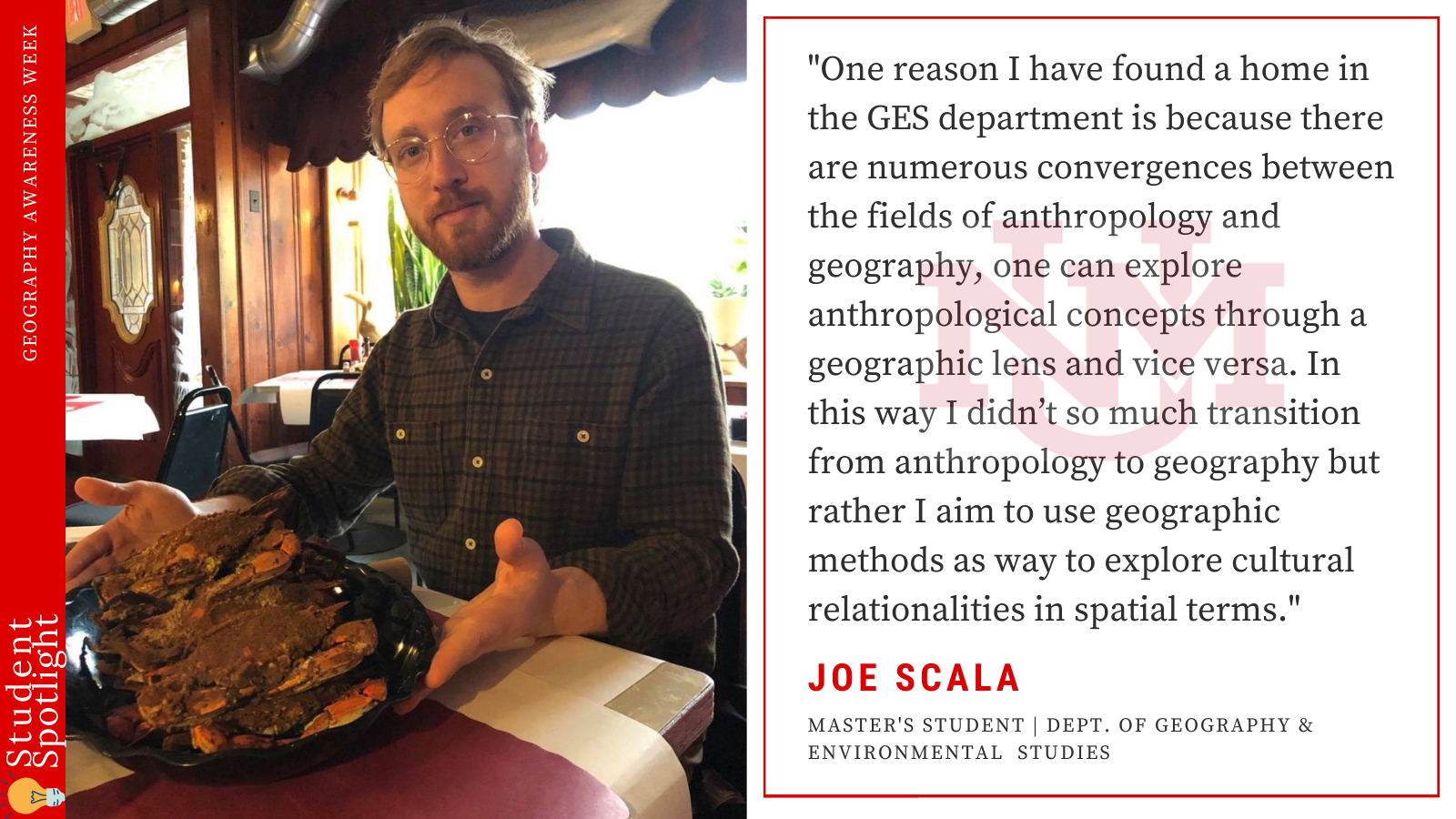 This week is #GeographyAwarenessWeek! Follow along as we share student/faculty stories, show you where geography pops up in everyday life and teach you about the geography of ABQ. Follow us on Twitter @UNM_GES for more frequent updates. First up, current grad student Joe Scala!
---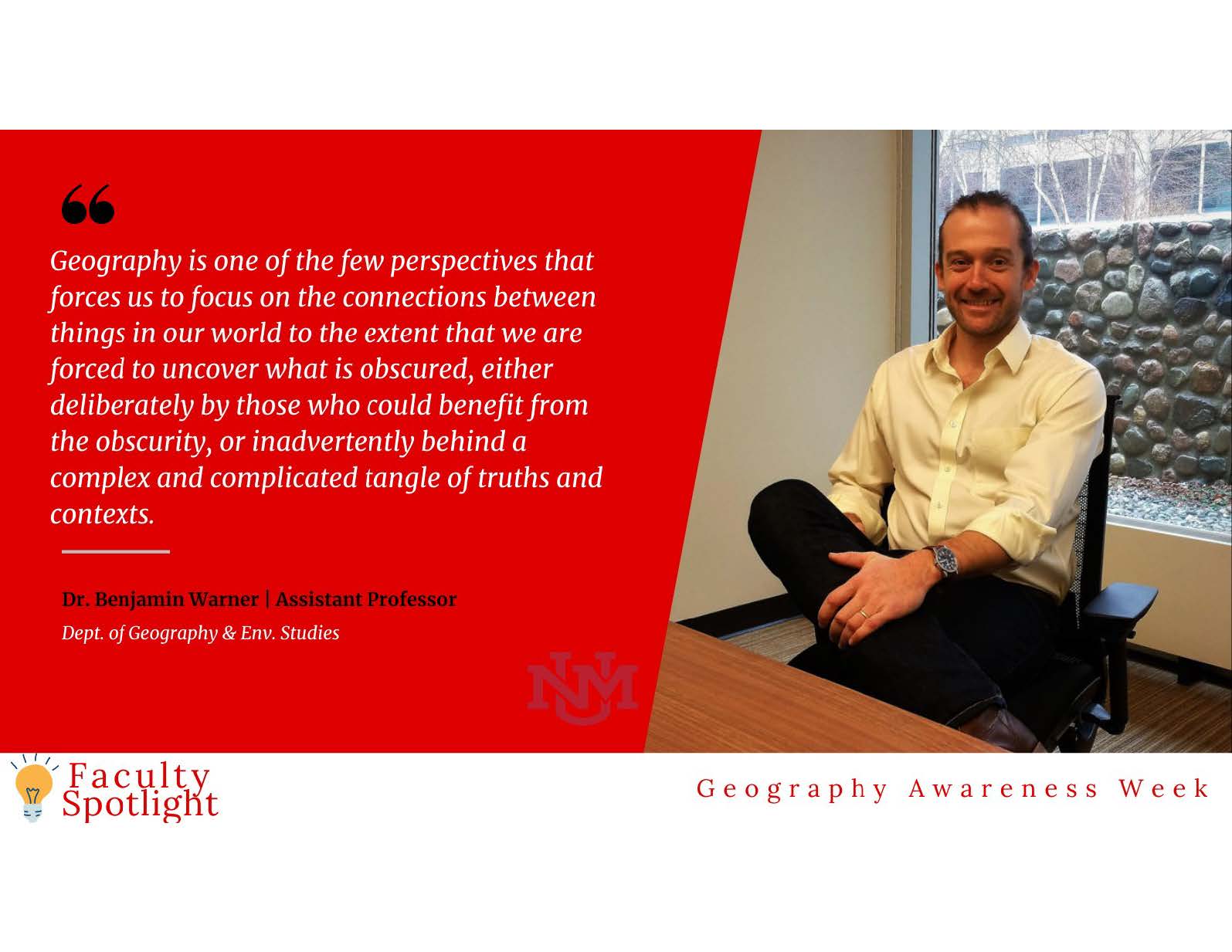 What do our faculty have to say about Geography? Assistant Professor Ben Warner tells us about how Geography can challenge us to look at the world more critically.#GeographyAwarenessWeek
---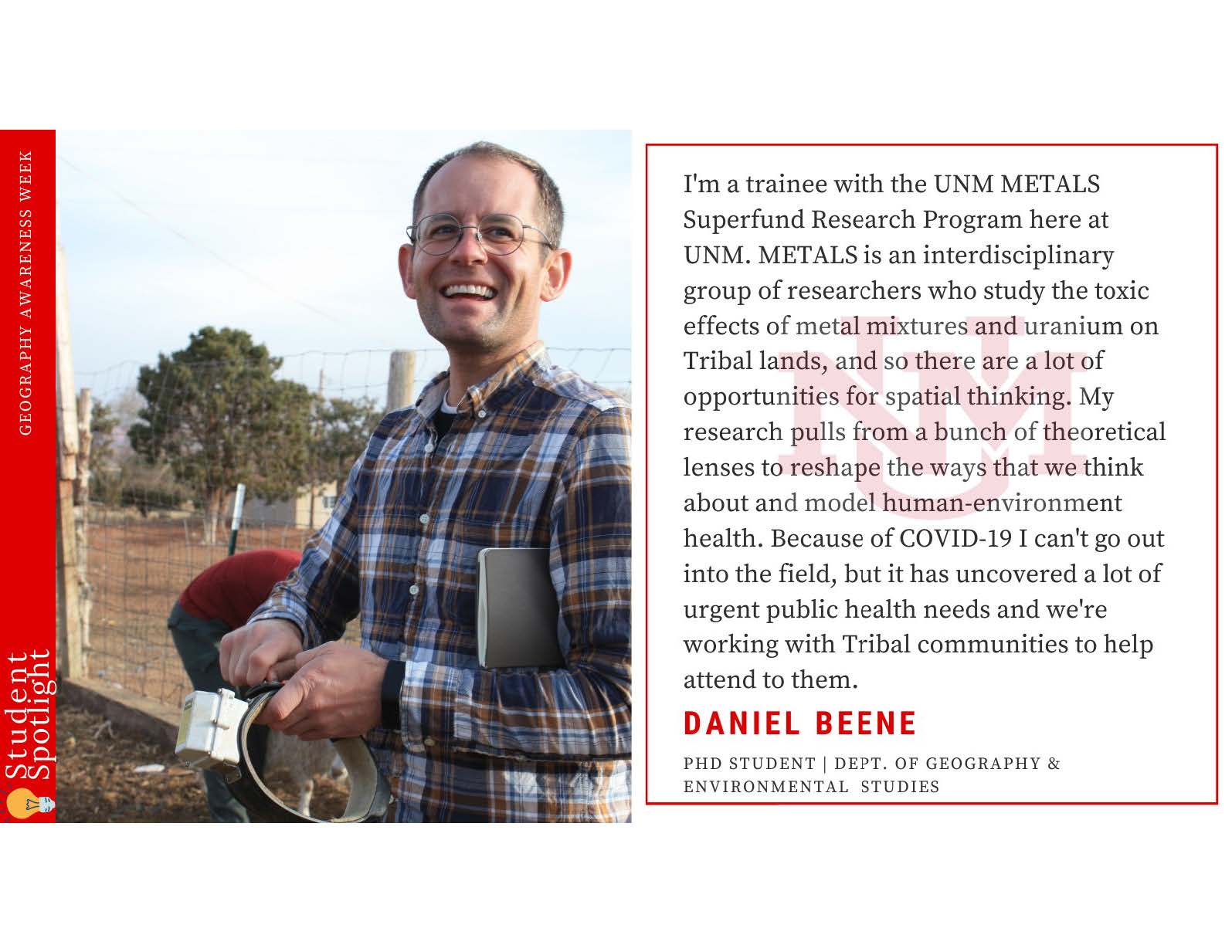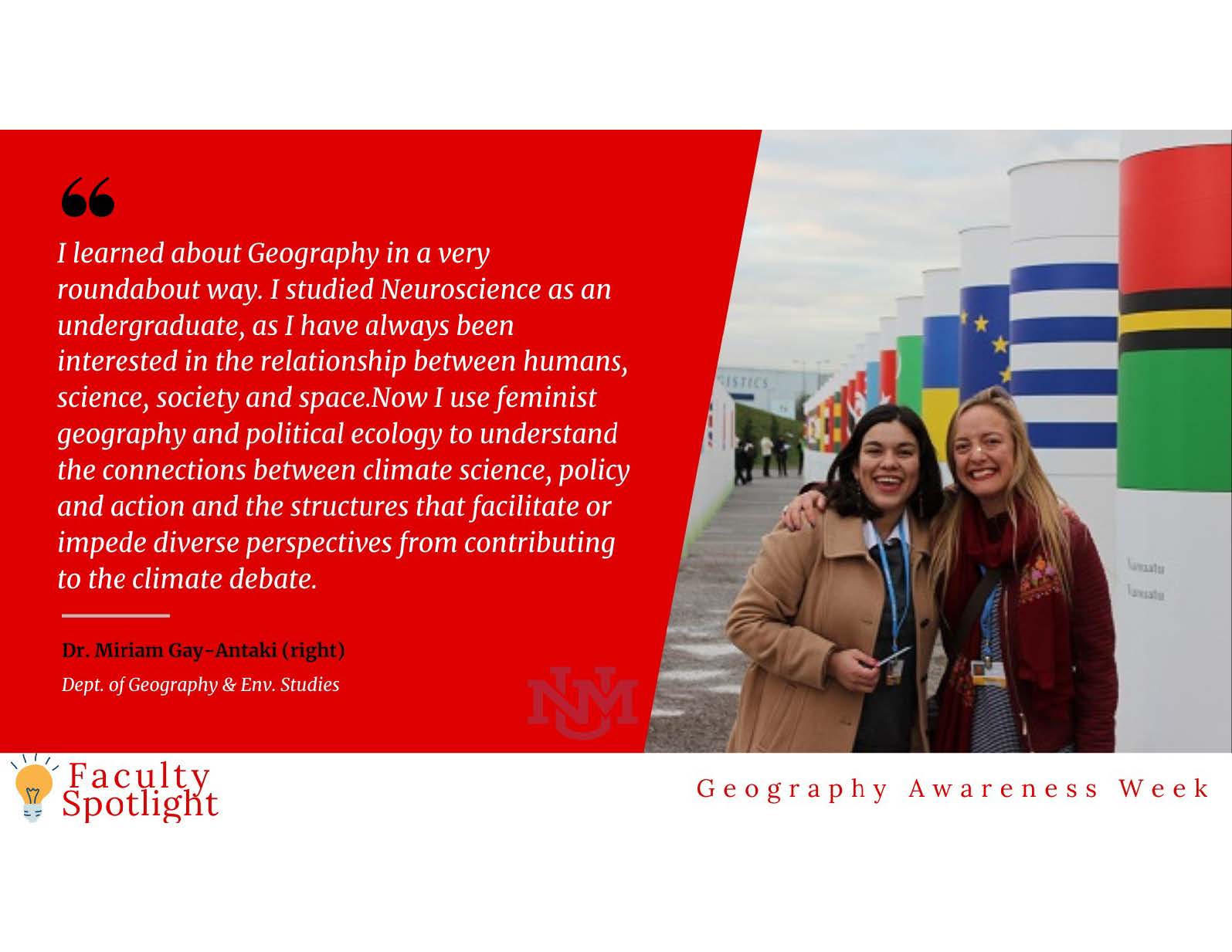 From faculty to students and from feminist perspectives to public health, geography truly allows us to study the world around us in unique ways #GeographyAwarenessWeek
---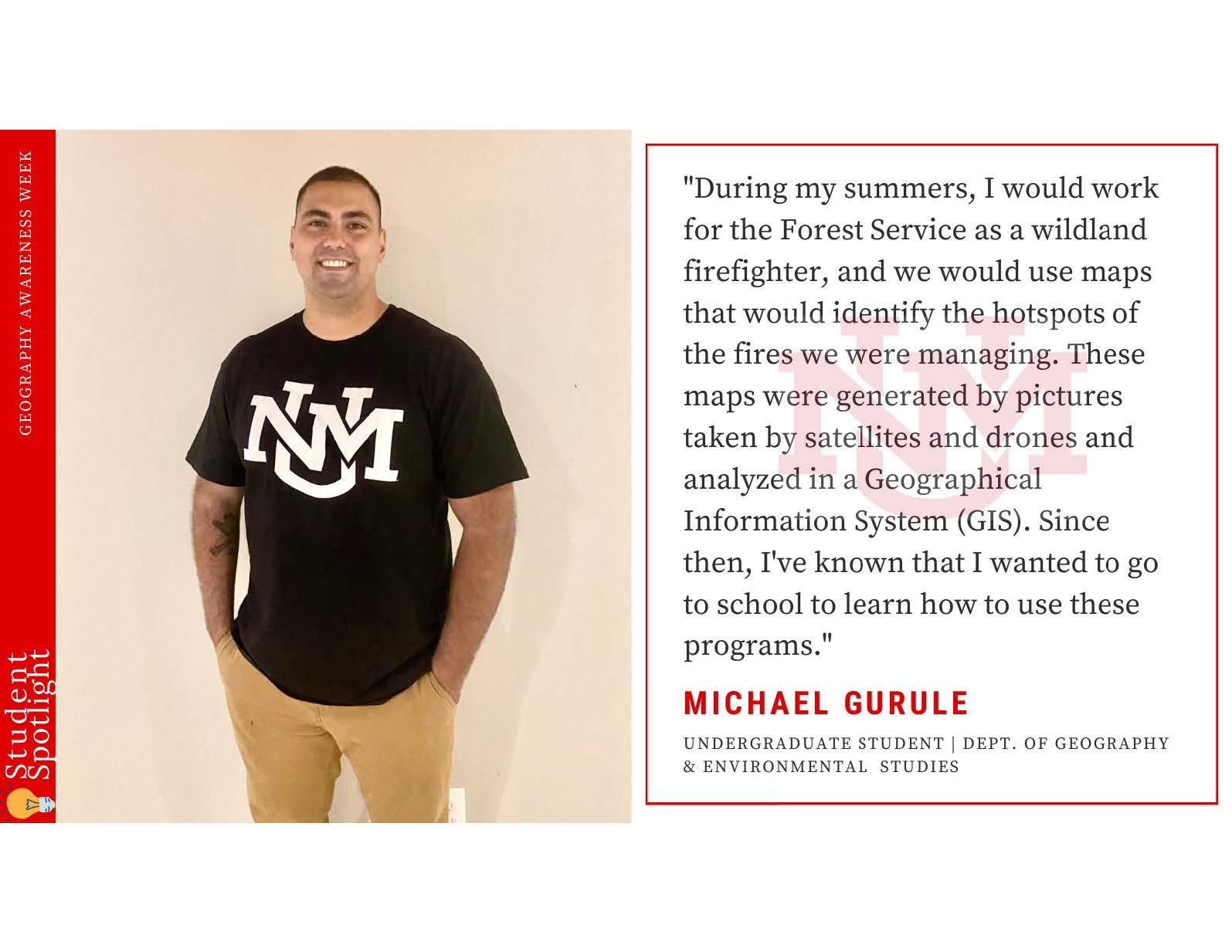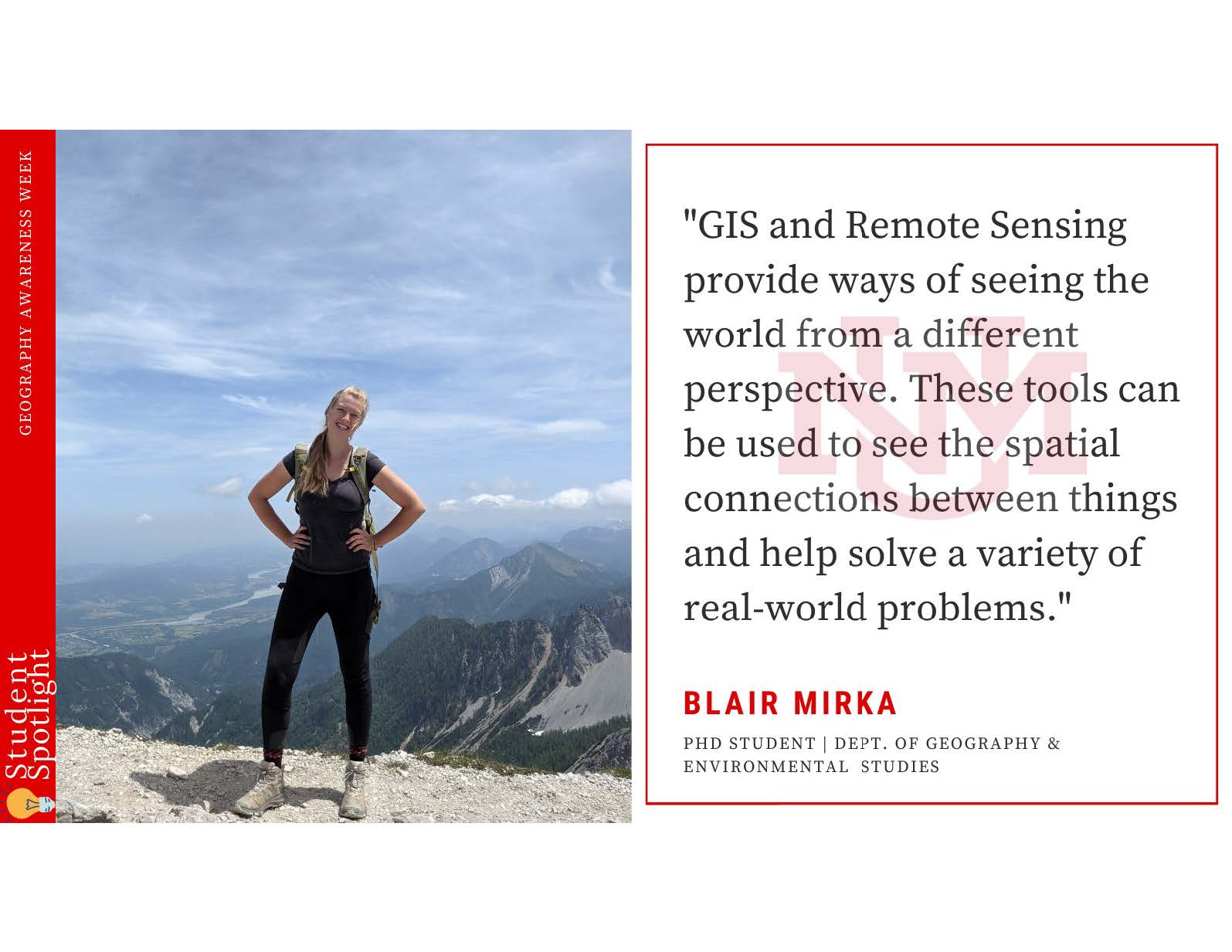 It's #GISDay! How can we think spatially, incorporate technology, and learn valuable job skills? GES students Blair and Michael tell us about their experiences using GIS in their work #GeographyAwarenessWeek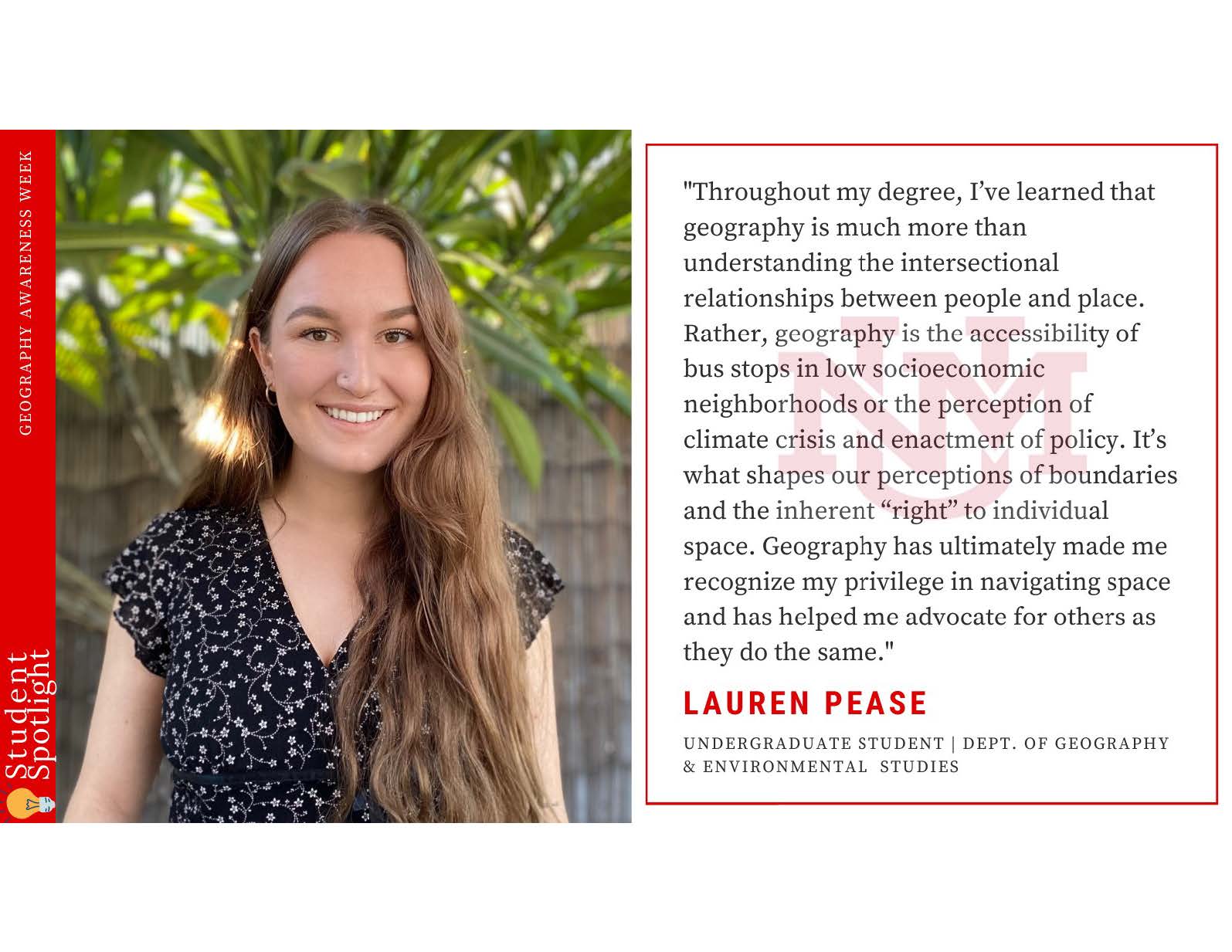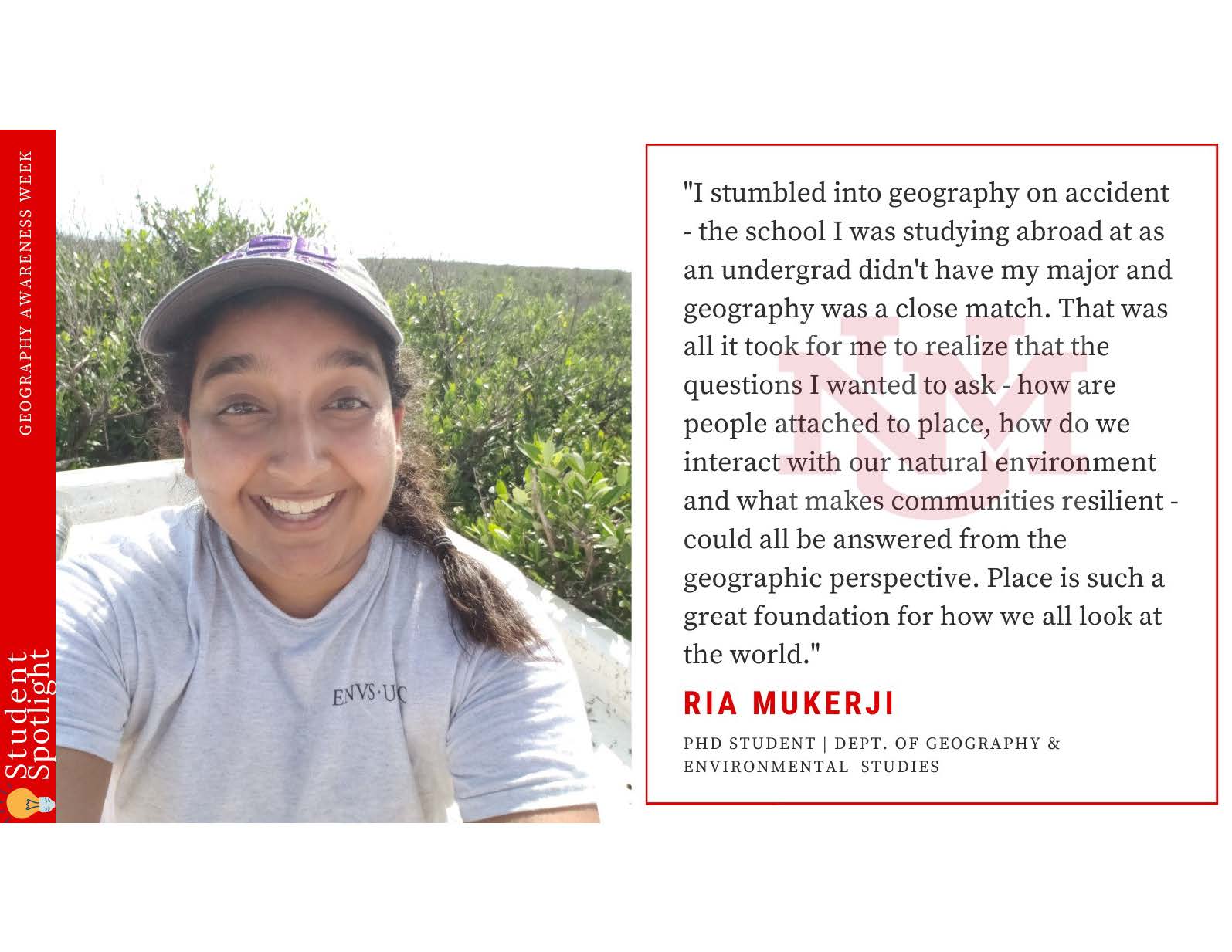 How do our students choose geography and what lasting lessons do they take from their time in the discipline? #GeographyAwarenessWeek
---