GES Alumni Profiles
---
Courtney Wikle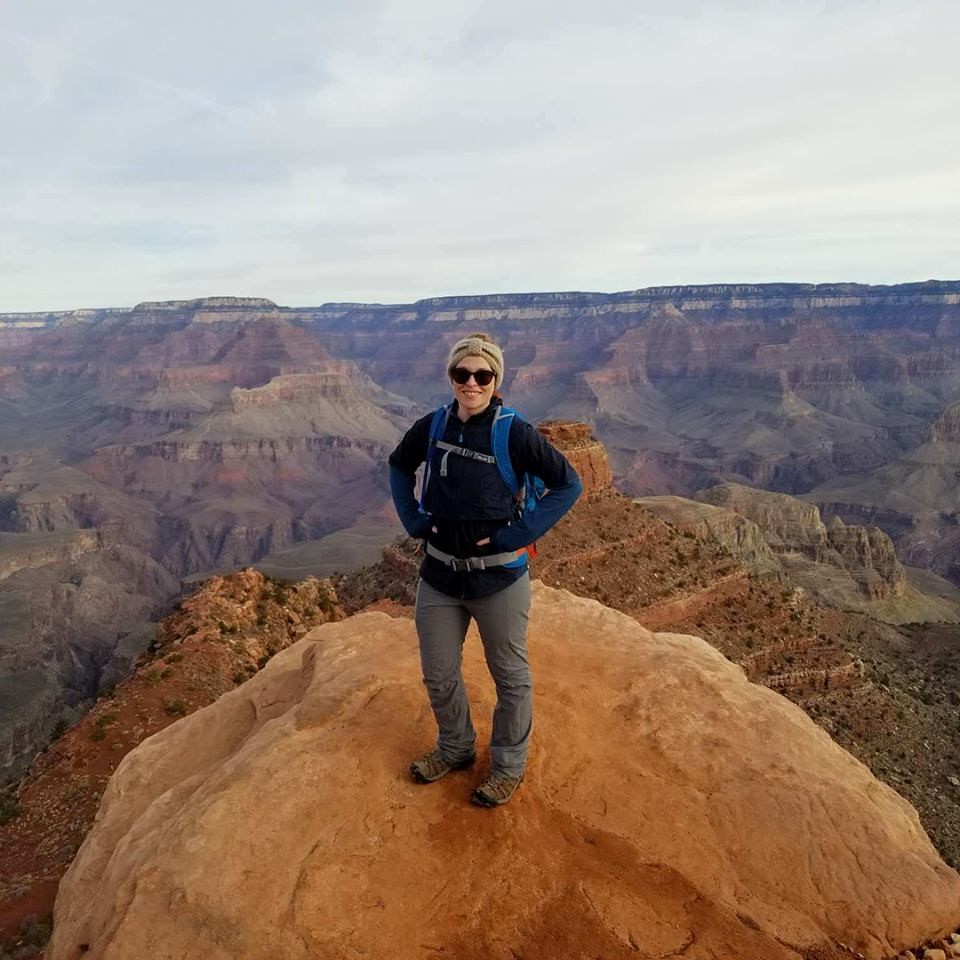 Courtney Wikle (M.S., 2018) is a Cartographer working for the National Ocean Service (NOS) of the National Oceanic and Atmospheric Administration (NOAA).  Let's let her tell about her work:
What does your employer do?
My division of the National Ocean Service—Marine Charts—is responsible for creating and maintaining digital maps of all coastal waterways throughout the United States and its territories worldwide.  NOAA has a very close relationship with ESRI and dozens of tools have been created for nautical cartography within ArcMap and ArcPro.  
What are your job responsibilities?
As a Cartographer, my job is to update, revise, and maintain nautical charts through ArcGIS software applications.  While the Coast Survey has been around for over 200 years, it has made its final transition from the use of paper charts to completely electronic charts to be used in ships' navigation systems.  Every day, new marine chart information comes in from various sources, including NOAA and the US Army Corps of Engineers, and we revise the charts through GISystems to show changes.  These charts are crucial to safe navigation because any wrecks, rocks, or obstructions could be a matter of life and death to mariners navigating through these areas.  Currently, all of the updates are made in ArcMap within a shared working database but soon the entire office will be moving to ArcPro. This might be a challenge to some employees who have been cartographers for the last few decades but NOAA is always offering learning opportunities to brush up on GIS and Remote Sensing skills through the University of Maryland.  One of these opportunities is the CAT-B Graduate Certification program which allows employees to take classes involving Lidar, marine geography and GIS model building to advance workplace skills and earn graduate credit.  
Have you had other positions with your employer?
I started out in the Marine Chart Division's Formatting and Distribution (FADS) branch in late 2018.  This section of the MCD is responsible every week for taking all of the cartographers' updated charts, checking them for any errors that might arise and then uploading them to NOAA's nautical chart database for download.  I was in this position for a few months until the 2018-2019 government shutdown paused all NOAA chart updates and our office was at a stand-still.  Once everything opened back up I was offered a position as a Cartographer working on charts for the Mid-Atlantic region, including waterways around D.C. and Maryland.  Within the last year (2020-2021) I have also been placed on a special project which includes creating custom charts for navigation.  This would allow mariners to go to NOAA's website, draw boxes on the map of where they want the chart to be, select the scale and print the map out themselves.  My aspect of the project right now is to transform all of the chart notes into polygons.  This way when the mariner selects any of these polygons that contain the note they would be added to their map as reference.  
How did you get started with this employer?
Before I left N.M. for D.C. I was offered a Pathways Internship at the USGS's New Mexico Water Science Center.  These positions are available for students either in academia or recent graduates and provides the opportunity to enter federal employment in a starting position.  Having a position like this is crucial when you're hoping to move around throughout the country as a federal worker.  Once you've got your foot in the door you have overcome so many obstacles towards starting a career.
What do you like best about your job?
I love that my job is always pushing us to keep learning. GIS is always advancing and NOAA wants nothing more than to help employees stay up to date with these changes.  There are always opportunities for growth in MCD and most of my co-workers are lifetime employees, some for over 50 years!
How did your geography degree help shape your post-graduation path?
My job is centered around ESRI software applications.  The majority of the coursework at UNM used ArcMap, ArcPro, ArcCatalog, etc. and these are all things that I use every day at work.  Sometimes starting a new job involves having to quickly learn a new and unfamiliar software application and not being able to apply many of the things you learned in school.  Interviewing for this position with the degree that I got from UNM made me a shoo-in because they knew that I was prepared to get started. And just say you took Python classes in grad school and you're guaranteed a job, haha!
What advice do you have for current geography students?
Some advice that I would give to geography students is to not necessarily single out GIS or remote sensing entirely.  Yes, you can pick a focus of which one you would like to specialize but know that there's a good chance that you'll be using both within your career.  Although the maps that I update are vector-based, a ton of the data that comes in is from LIDAR surveys of the ocean floor and may need to be opened up in programs like ENVI.  Having some experience in both RS and GIS sets you up to cast a wider net of experience and is always a huge resume-booster during job searches.
---
Laurel Ladwig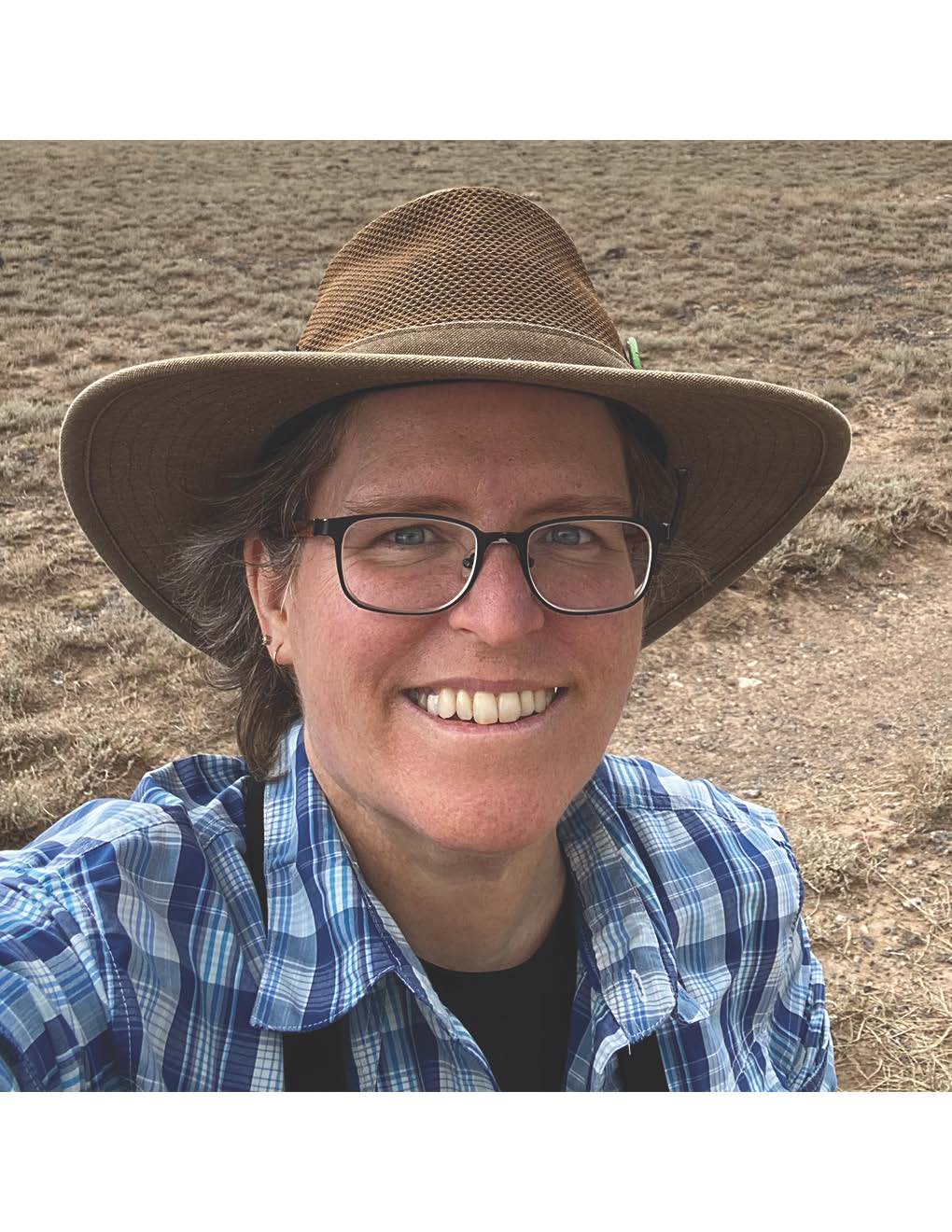 Laurel Ladwig (M.S. Geography 2020) is the new Partnership Coordinator for the
Albuquerque Backyard Refuge Program
, an initiative to expand wildlife habitat in Albuquerque's urban center. For the last couple years, Ladwig has served on the project's core development team, helping to design an outreach program and certification process that encourages Albuquerque residents to make their yards suitable for a variety of wild species. With this new position, she moves into a leadership role focused on building partnerships with government agencies, educational institutions, businesses, and non-profits.
As Partnership Coordinator, Ladwig will be able to rely on her own graduate research. Ladwig's master's thesis in GES implemented a large survey to gather information about Albuquerque residents' willingness and motivation to participate in "wildlife gardening" in 2019. The survey results are directly relevant to the Backyard Refuge program and will contribute to Ladwig's ability to implement an effective outreach program. "I'm thrilled to continue my work with this program and use what I learned with my research to help expand the urban habitat that humans and our wild neighbors can share." She also remains connected to GES by volunteering as the communications executive for the new GES alumni group to bring you news updates and a quarterly newsletter.
In another key role, Ladwig serves as a volunteer co-organizer for the Albuquerque "City Nature Challenge." She helped launch Albuquerque's first-ever participation in this worldwide event in 2019, encouraging citizen scientists to record observations of plant and animal species throughout the city and county. Albuquerque's debut was incredibly successful, with the city cracking the top 5 worldwide in a number of categories. In 2020, Ladwig helped lead a COVID-interrupted installment, and she is already hard at work on planning the 2021 Albuquerque City Nature Challenge for late spring. (For those interested in this fun initiative, stay tuned for more information about the format, which will include virtual opportunities and live webcam streaming from the Nature Center.) "We're excited about planning virtual events with each of our partners and expanding the ways people can safely participate." 
With a deep commitment to citizen science, Ladwig is always looking for ways to get new people involved in initiatives that highlight human-environment connections and relations. She helps organize the Rio Grande Nature Center's annual BioBlitz, volunteers with the Valle de Oro National Wildlife Refuge, serves on the advisory committee for the Bernalillo County Master Naturalist program, leads bird walks, writes informational pamphlets, and design T-shirts, all with a goal of improving Albuquerque citizens' connections to the wild environment.
Despite the constraints of the COVID-19 pandemic, Ladwig is optimistic. She says there are still plenty of ways for people to participate in citizen science, using apps like iNaturalist and eBird, or by attending webinars in place of in-person lectures and events. According to Ladwig, "There is a lot to learn online, and in your backyard."
---
  Aaron Russell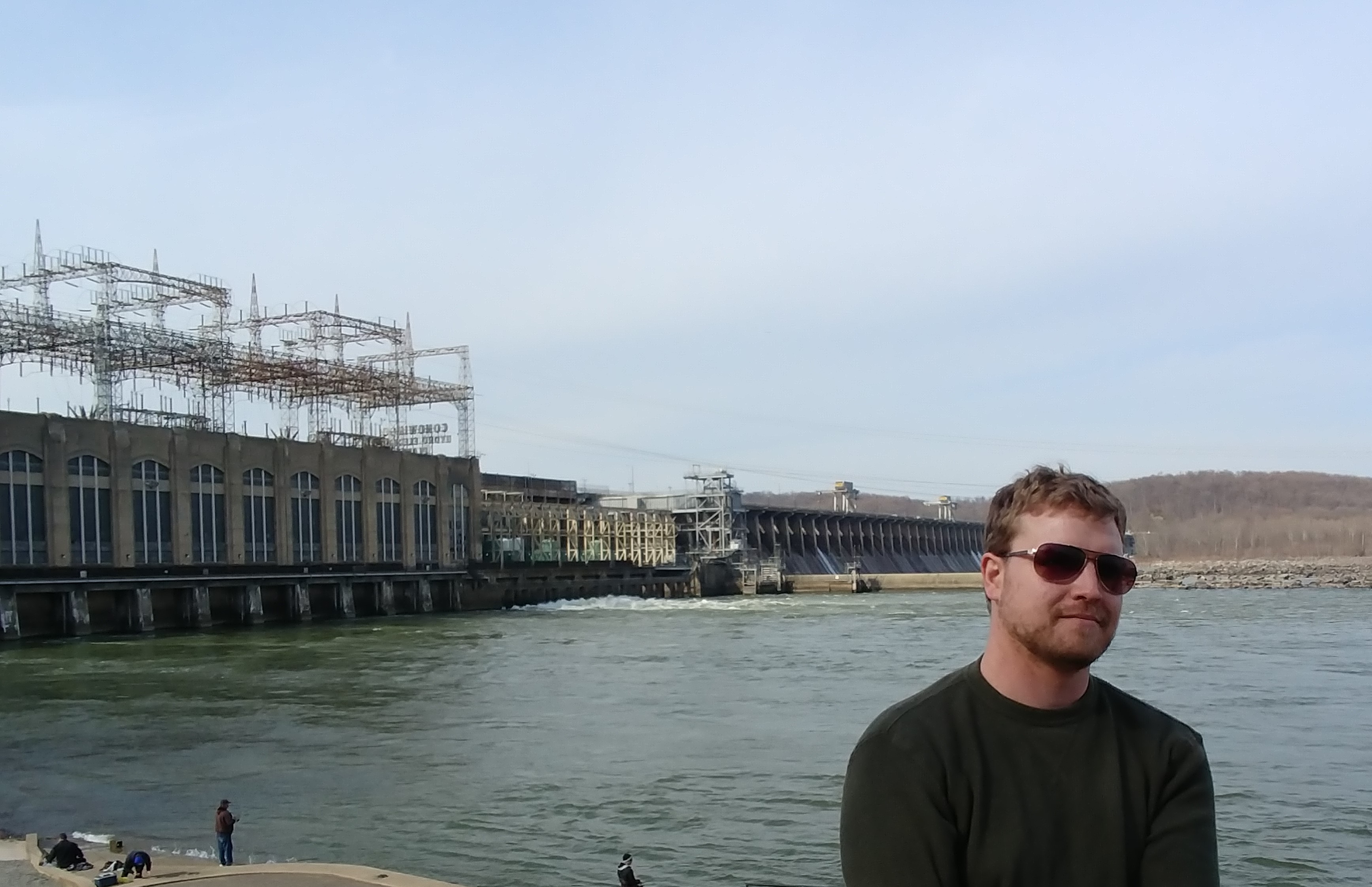 Engaging in renewable energy social science is what brough GES alum Aaron Russell to the University of Delaware in 2017 to pursue a Ph.D. in Water Science and Policy.  The geography of the mid-Atlantic region is very different from the high desert west, but many of the issues are the same. The country is undergoing a socio-technical transformation towards greater reliance on renewable sources of electricity. These require new infrastructures, and like any other change to the status quo, communities often find themselves divided about how to respond. Policymakers and developers know this and despite the potential for fostering greater collaboration between stakeholders, renewable projects are often delayed and sometimes fail.
Aaron, who always wanted to study the intersection of technology advancement and environmental issues, studied community responses to solar development in southern Colorado during his time as a Master's student at UNM. His greatest takeaway from completing the M.S. in Geography has been the importance of place attachment constructs. These theories look to contextualize how people relate to their surroundings through their self-identities, dependencies, and overall relatedness. This information has received increasing attention from geographers as well as other social and policy scientists as the global and local consequences of climate change bring increasing awareness to how we power our civilization.
Aaron's Doctoral research has focused predominantly on aspects of offshore wind development off of the east coast where populations are dense, and land is often quite expensive. This has led developers to consider leasing space offshore where wind speeds are both greater and more regular. The visibility of the turbines on the horizon as well as the connection to mainland power grids are concerning to some communities. The impact of development on sensitive sea life as well as the livelihoods of fishers are also concerns.
Aaron has worked as part of a team employing surveys to gather data on residents of coastal Rhode Island where the nation's first offshore wind installation has been erected. In addition, Aaron has participated in analyzing a nation-wide survey of wind-project neighbors' attitudes towards their local projects. The main foci of the research have been the perception that a wind project is consistent with established human uses of a place as well as other emotional and cognitive evaluations.
In addition to new energy infrastructures like wind turbines, Aaron is also interested in how the established sources of electricity are changing. The Conowingo Dam in Maryland is nearly 100 years old and is the largest single source of green energy in the state. The dam operator has been navigating a complex relicensing process for the last decade. The hydroelectric operations have a strong influence on the environmental issues facing the Chesapeake Bay because the dam acts as a 'pollution gate' blocking the bulk of upstream pollutants, but its capacity to do so has steadily decreased. Aaron is conducting an analysis of stakeholder collaboration in the relicensing process and focusing on how the dam's economic and environmental importance have so far prevented a settled agreement.
Aaron has also regularly participated in community outreach in Delaware regarding future offshore wind development. This has included public lectures and community information fairs. He has presented his work internationally and interned with the US Department of Energy while living for a short time in Washington D.C. Aaron is currently completing his dissertation while preparing to move on from student life into a career in academia or public service.
---
Kurt Menke
Distinguished Alum Kurt Menke advocates for open source software
In Spring 2019, the Geography and Environmental Studies Department awarded Kurt Menke the inaugural GES Distinguished Alumni Award. Menke, a 2000 graduate of the department's Master's program, is the owner of Bird's Eye View, a GIS company he started in 2008. He's also a leader in open source GIS, advocating for QGIS, an alternative to ArcGIS.
"Open source GIS is an important ethical part of my work," Menke says.
He says that whereas companies like ESRI or Microsoft issue property licenses geared toward limiting the use of their software—by limiting how many computers the software can run on, what features are available, or for how long it will run—open source licenses are "radical" and designed to grant rights to users, rather than restrict them.
"You can run the program as you wish, you can study how it works—look under the hood—and you have the freedom to recirculate copies so you can help your neighbor, and distribute your modified versions and communicate the benefits to your neighbors," he says.
An international community of people work together, communicating about issues and improving the software.
"Using QGIS, if I find some issue, or think, 'I wish it could do this…' I can contact the developer, and they'll scope out the new development, find out how much it could cost," he says. "With ESRI, you have no control. You just get the new version, whether it works for you or not. QGIS is free, and there's the freedom to make it what you need it to be."
A former archaeologist, Menke teaches classes worldwide about QGIS, and has written five books, including Discover QGIS 3.x, an updated workbook, and his most recent, QGIS for Hydrological Applications. Thinking back to his time at GES, and working for the Earth Data Analysis Center at UNM, he recalls when the computer lab was new, in the 1990s.
"We had a brand-new digital tablet, but it scanned backwards and upside down, which meant I learned a lot about problem-solving,"
he says, adding that doing GIS at that time meant using Unix Command Line, and not clicking and dragging in Windows.
"I cut my teeth at that time," he says, "with practical work experience and the theory coming out of the department at the time."
Menke's master's thesis used GIS to find the best route through New Mexico for the Continental Divide National Trail. And from even before his founding of Bird's Eye View, he worked with environmental groups like the New Mexico Wilderness Alliance and WildEarth Guardians. He always wanted to use technology to make the world a better place, he says, and to use GIS for good projects.
"Working on proposed wilderness areas, habitat modeling, conservation, migration corridors, that felt really good," he says. "All these groups [at that time, in the early 21st century], no one had much GIS capacity, but they had tons of needs."
His work in the open source community, he says, is similar to that he does for environmental organizations.
"QGIS, and the support that comes from that community feels like the same kind of community, like a bunch of tree-hugging wilderness activists," he laughs. "Everyone is supportive, and nice, and doing this for the common good."
---
Bryce Risley
UNM grad grapples with the complexities of the aquarium fish trade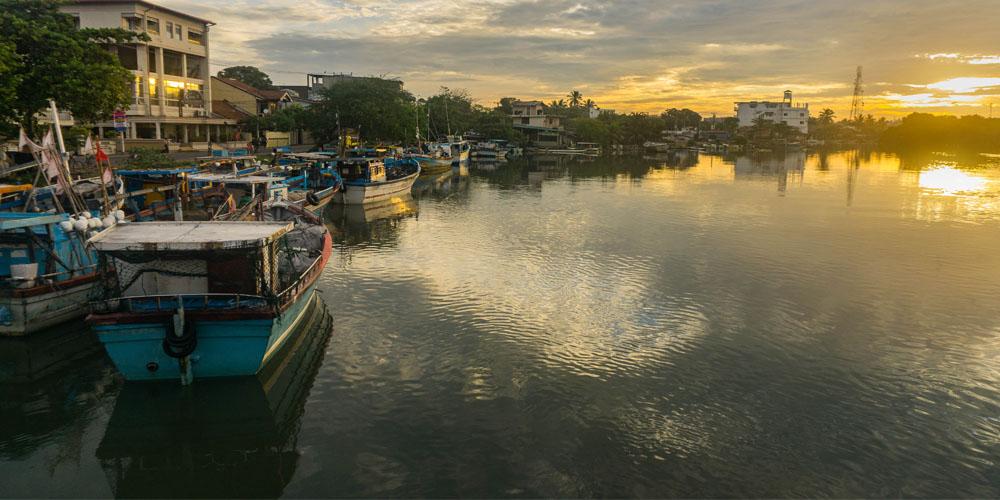 As a graduate student at the University of Maine's School of Marine Sciences, UNM alumni Bryce Risley spent seven weeks over winter break in Sri Lanka—not for vacation, but to embark on critical fieldwork for his research. Historically, Sri Lanka has been the third largest supplier of saltwater aquarium fish for the American market.
Risley earned his B.S. in Geography and Environmental Studies in 2014, and even though he focused on GIS, he says he was drawn more and more to human geography. Today, he's working on a dual master's degree in marine biology and marine policy to understand the trade in marine ornamental fish species. His interest in aquariums goes all the way back to his youth, and he jokes that his grandparents are responsible "for all this mess." They were docents at the Albuquerque Zoo, helped raise money to build Albuquerque's aquarium, and co-founded the Albuquerque Aquarium Association. As a child, he used to shadow them, learning the names of the fish, and later, he worked at the Albuquerque Biological Park.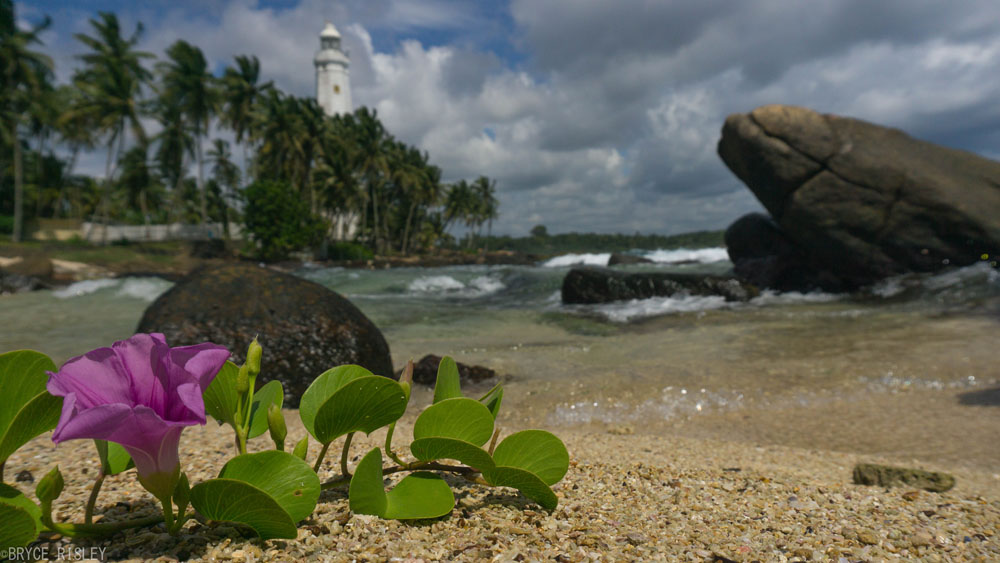 But having achieved what he had considered his "dream job"—at Denver's Downtown Aquarium—he got burned out, he says. "I wanted to be doing something more than tank-scrubbing and husbandry," he says. He wanted to understand the aquarium fish trade beyond the walls of aquariums, which is the very end of the supply chain—where animals end up. "I wanted to understand the supply chain, in its totality, including the supplying countries and the communities that the trade depends on," he says.
Fish are caught off the coast of places like Sri Lanka, where men work under oftentimes dangerous conditions, diving alone with old or partial scuba equipment. And while there are animal welfare issues all along the supply chain—including at the end of the chain, where Risley points out that the animals end up living in "glass boxes"—there are complex social, economic and environmental issues all along the way.
Many people understand that the world's coral reefs are in danger, due to climate change and ocean acidification, as well as coastal development projects. But communities that rely upon fishing, and the fish trade, are also threatened. Risley worries, he says, about what happens to those communities in the future. And studying geography has helped him grapple with questions about how cultural and socio-economic factors influence the supply chain and the stakeholders. "There is so much complexity behind the relationships," he says. "There's also a history behind it."
Like many other graduates from the Geography and Environmental Studies Department, Risley's undergraduate education in Geography helped shape his understanding of the world, and guide the questions he asks within his research in marine biology and marine policy. And as a scientist, Risley doesn't't want to just gather and analyze data. He also wants to represent the voices of those who are a part of the supply chain. "There is a lack of representation," he says. "And what's important to me is telling a story about the actual people participating in the trade."
---
Chris Sylvan
Sylvan, '11 exemplifies GES Department's varied strengths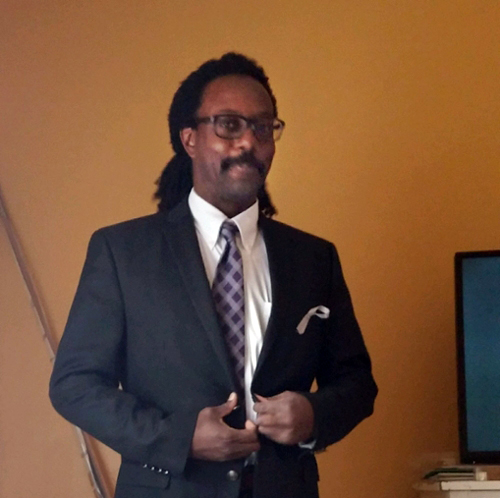 With diverse and dynamic instructors and course offerings, the Geography and Environmental Studies Department has graduated students who are working as alums in varied fields around the country.
Chris Sylvan earned his B.S. from GES in 2011, and even though he sometimes thinks of his career as having followed a circuitous route, Sylvan reflects the department's breadth and depth well. He began his academic career in GES focused on mapping and GIS, but became intrigued by issues related to food and natural resources, and then policy and politics.
As a student and following graduation, Sylvan worked on both the campaign and policy sides of politics. He served as an intern for then-Rep. Martin Heinrich, worked on the congressional campaign of Eric Griego, and hustled around southern New Mexico as a campaign coordinator for the Democratic Party. Until about a year ago, he worked as a policy analyst for Albuquerque City Councilor Diane Gibson.
Today, Sylvan is the Community Policing Council manager for the City of Albuquerque. Each of the six Albuquerque Police area commands has a council, and even though they precede the U.S. Department of Justice's mandate for the city to address APD's use of force, the councils gained increased visibility after the implementation of the settlement between DOJ and APD. It's Sylvan's job to manage the six councils—to ensure members have what they need to foster better policing and better community-police relationships.
"It's a balancing act," he says. "You have to balance the personalities of the six councils and all their members." Sometimes that means navigating skirmishes, and it always means working collaboratively with community members, DOJ, and APD. "The dynamics are incredible," he says. "And I love it. Every day is different."
He likens his work as a policy analyst for one city councilor to being an undergraduate. "You have to know all these different things, and how to tie them together," he says. Meanwhile, working for the Community Policing Council is like graduate school: "The work is intense, it's huge, and it's heavy."
Sylvan hopes more young people start showing up at council meetings and becoming involved with the councils in their area. When it comes to improving policing and community relationships, he says that people want to see immediate, wholesale change. But that's not possible, he says, when cultural and generational changes need to occur. Getting youth involved is an important step to making those long-term cultural and structural changes.
Sylvan is also a board member of the Rio Grande Community Farm. And he's Senior Olympian: he just officially qualified to compete next year in the 800- and 1,500- meter track events.
Having lived in Albuquerque since 1998, Sylvan still loves to explore New Mexico, and remembers fondly first arriving in the state. "I loved looking at the map and saying, 'I'm going to go here: Elephant Butte, the Jemez, Roy, Kiowa National Grasslands,'" he says. "I explored the whole state." And he laughs, he loved being a geography major.