GES Alumni
Sylvan, '11 exemplifies GES Department's varied strengths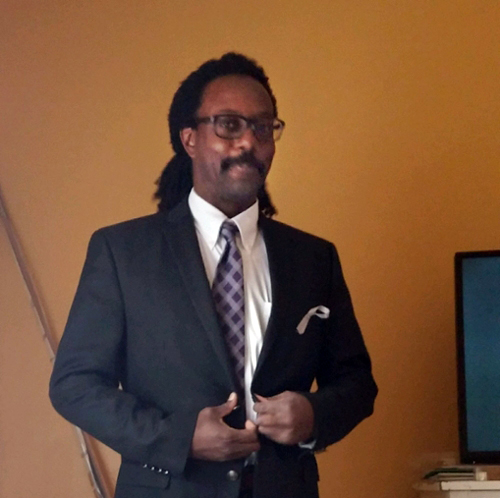 With diverse and dynamic instructors and course offerings, the Geography and Environmental Studies Department has graduated students who are working as alums in varied fields around the country.
Chris Sylvan earned his B.S. from GES in 2011, and even though he sometimes thinks of his career as having followed a circuitous route, Sylvan reflects the department's breadth and depth well. He began his academic career in GES focused on mapping and GIS, but became intrigued by issues related to food and natural resources, and then policy and politics.
As a student and following graduation, Sylvan worked on both the campaign and policy sides of politics. He served as an intern for then-Rep. Martin Heinrich, worked on the congressional campaign of Eric Griego, and hustled around southern New Mexico as a campaign coordinator for the Democratic Party. Until about a year ago, he worked as a policy analyst for Albuquerque City Councilor Diane Gibson.
Today, Sylvan is the Community Policing Council manager for the City of Albuquerque. Each of the six Albuquerque Police area commands has a council, and even though they precede the U.S. Department of Justice's mandate for the city to address APD's use of force, the councils gained increased visibility after the implementation of the settlement between DOJ and APD. It's Sylvan's job to manage the six councils—to ensure members have what they need to foster better policing and better community-police relationships.
"It's a balancing act," he says. "You have to balance the personalities of the six councils and all their members." Sometimes that means navigating skirmishes, and it always means working collaboratively with community members, DOJ, and APD. "The dynamics are incredible," he says. "And I love it. Every day is different."
He likens his work as a policy analyst for one city councilor to being an undergraduate. "You have to know all these different things, and how to tie them together," he says. Meanwhile, working for the Community Policing Council is like graduate school: "The work is intense, it's huge, and it's heavy."
Sylvan hopes more young people start showing up at council meetings and becoming involved with the councils in their area. When it comes to improving policing and community relationships, he says that people want to see immediate, wholesale change. But that's not possible, he says, when cultural and generational changes need to occur. Getting youth involved is an important step to making those long-term cultural and structural changes.
Sylvan is also a board member of the Rio Grande Community Farm. And he's Senior Olympian: he just officially qualified to compete next year in the 800- and 1,500- meter track events.
Having lived in Albuquerque since 1998, Sylvan still loves to explore New Mexico, and remembers fondly first arriving in the state. "I loved looking at the map and saying, 'I'm going to go here: Elephant Butte, the Jemez, Roy, Kiowa National Grasslands,'" he says. "I explored the whole state." And he laughs, he loved being a geography major.