Chris Lippitt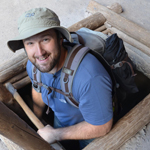 Associate Professor, Geography and Environmental Studies
Associate Dean for Research, College of Arts & Sciences
Director, Center for the Advancement of Spatial Informatics Research and Education (ASPIRE)
Ph.D., UC Santa Barbara and San Diego State University
clippitt@unm.edu | CV | ASPIRE Website
Associate Dean Lippitt has been a member of the UNM Department of Geography and Environmental Studies since 2012. He earned his Ph.D. in Geography from San Diego State University and the University of California, Santa Barbara, and his M.S. in Geographic Information Science from Clark University. Lippitt's teaching and research focus on remote sensing and geographic information science (GIScience). His research requires routine collaboration with government, private sector, and extra-disciplinary cooperators and accessing a diverse array of federal, state, and private funding sources. He has started several research-derived companies, helped students launch their own, and advised teams though the NSF iCorps Research Commercialization Program. Lippitt is the founding Faculty Coordinator of the Interdisciplinary Science Cooperative (IS Co-op), Director of the Center for Advancement of Spatial Informatics Research and Education (ASPIRE).
Interests:
Remote sensing, geographic information science, time-sensitive geographic information
Research:
Dr. Lippitt's research is focused on the design and automation of remote sensing and related information systems to improve human perception and decision making, including applications to infrastructure, vegetation ecosystems, wildlife sampling, and hazard response.