Need to Apply for Graduate School Financial Aid?
Click the image below to be taken to a step-by-step guide.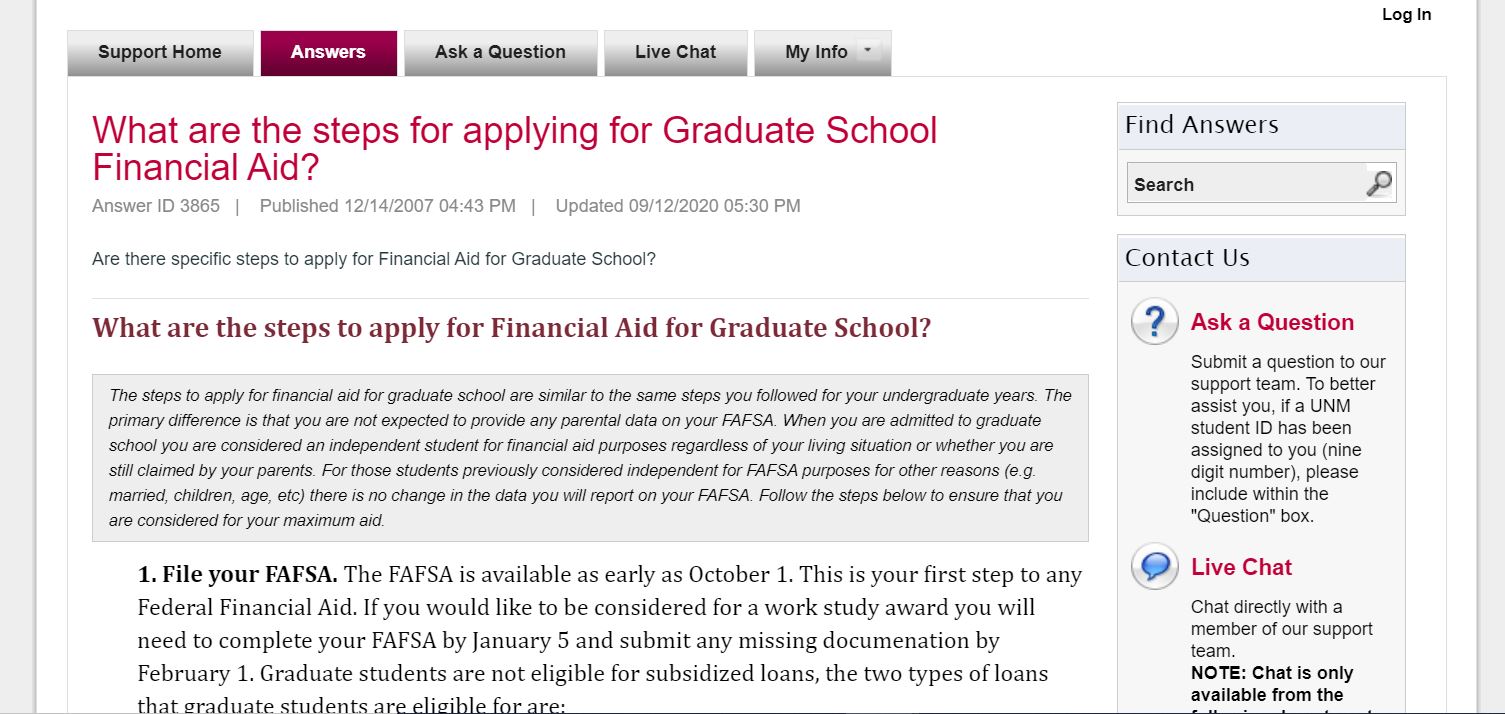 Assistantships
An MS degree in geography is a good investment, and we invest in our students. We currently fund about 90% of the graduate students in our program through a variety of paid assistantships and scholarships. There are also many financial aid resources available at UNM to support graduate research projects.
The department has a number of Teaching and Research Assistantships for the Master's & Doctoral programs.              TA positions typically entail:
20 hours of work per week which consist of teaching sections of introductory courses, meeting with students, and assisting professors with their courses.

A Master's TA earn approximately $1,405 per month and a Doctoral TA earn approximately $1,546 per month; both include full tuition waiver up to 9 credit hours and health benefits.

Typical TA appointments are for an academic year from late August to early May. Limited TA possibilities exist in the Summer semester.

RA positions are typically funded from research grants and RAs work in direct collaboration with one or more faculty. Conditions for RA positions vary but generally have the same terms as TA positions.
Please bear in mind that TA and RA positions are very competitive.
When applying to the program you should indicate if you would like to be considered for a TA or RA position.
Other Financial Support Options
Administered by the Department of Geography
• Tuition scholarships. The department has a limited number of tuition waivers for in–state students. All eligible students enrolled in or starting our graduate program will automatically be considered for this scholarship and there is no need to apply. Scholarships are located in the Summer for the upcoming academic year.
Administered by Graduate Studies
The Regents' Winrock Minority Doctoral Fellowship (RWF) is a highly competitve award that promotes the recruitment of doctoral students of exceptional academic merit who will also contribute to the diversity of the student body in their programs of study. The RWF particularly supports the recruitment of outstanding doctoral students who are Black/African American, American Indian, and Hispanic/Latinx American. Department Chairs submit one nominee for college-level review no later than February 15 for adequate time allowing college deans to make their own nominations by March 5. International students are not eligible.
The Charles Griffith Graduate Fellowship in Science Technology supports graduate students pursuing a degree in STEM fields, excluding the social sciences, by providing a fellowship to recruit or support highly qualified doctoral students for up to three years or to the time of Advancement to Candidacy. Qualified students who have been admitted to a UNM doctoral stem program and have not yet Advanced to Candidacy are eligible for nomination, with priority given to nominees for whom the fellowship will secure successful recruitment to UNM. Department Chairs or Graduate Directors submit one nominee by March 5.
Administered by UNM Organizations
• The Graduate and Professional Student Association offers four different grants to graduate students looking to fund their research and materials, travel expenses, and professional development. With one exception, awards are offered during the fall, spring, and summer semesters. Students must apply online via their grants website.
The Spring 2023 Grant Cycle opens January 27, 2023 and closes February 17, 2023.