Featured Map January 2019
Mischief, Managed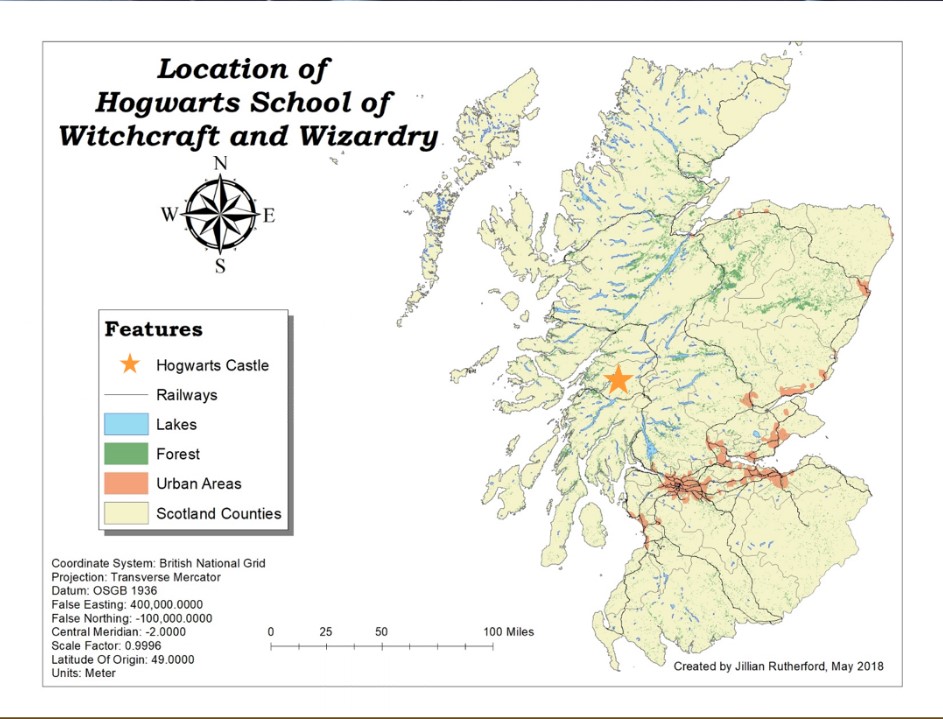 When undergraduate Jillian Rutherford had to make a map for Dr. Xi Gong's Geography 381L last semester (Intro to GIS, Spring 2018), she came up with something unique: figuring out where Hogwart's Castle from the Harry Potter books and movies could possibly be located.
Throughout the semester, the class had been "working with quite 'serious' data sets such as Census data and habitat data, etc, but Dr. Gong had shown us a project where somebody identified the ideal location for Batman's bat cave," Rutherford says.
"This got me thinking about how to use these 'serious' tools for more light-hearted topics," she says. "I grew up with the books and movies from the Harry Potter world and knew some of the clues given about Hogwarts' secret location, so finding it on a map just seemed like a natural fit!"
Rutherford found data from government sites related to some of the clues provided in the fictional series, including shapefiles containing forest cover, lakes, railways, Scotland country boundaries, and sites of historic ruins.
"I buffered and selected from these layers using the fictional details, and then overlaid the results to find the most likely locations for the castle," she says, adding that working on the map helped her understand that maps aren't restricted to a specific scientific discipline.
Instead, she she says they are a "global—pun intended—tool for exploring and communicating just about any subject, including those that may or may not be real."
When she perfected her geoprocessing tools and workflow, she says her search generated exactly two sites.
"Curious about whether I could picture Hogwarts at either of those locations, I identified the names of the nearby ruins and looked them up. The first, the Black Castle of Moulin just looked like a bunch of rocks in a field of sheep. Not very magical," she says. "But when I googled images of the second, Kilchurn Castle, my jaw literally dropped. I think I made everyone in the lab look around because I said (probably too loudly) Oh My God, that's it! I found Hogwarts! Google it yourself and you will see why!"
Rutherford will be graduating with her B.S. in Geography and Environmental Studies in the spring, and she's applied to join the graduate program.