Featured Map March 2019
Fishing for iNaturalist data around Abq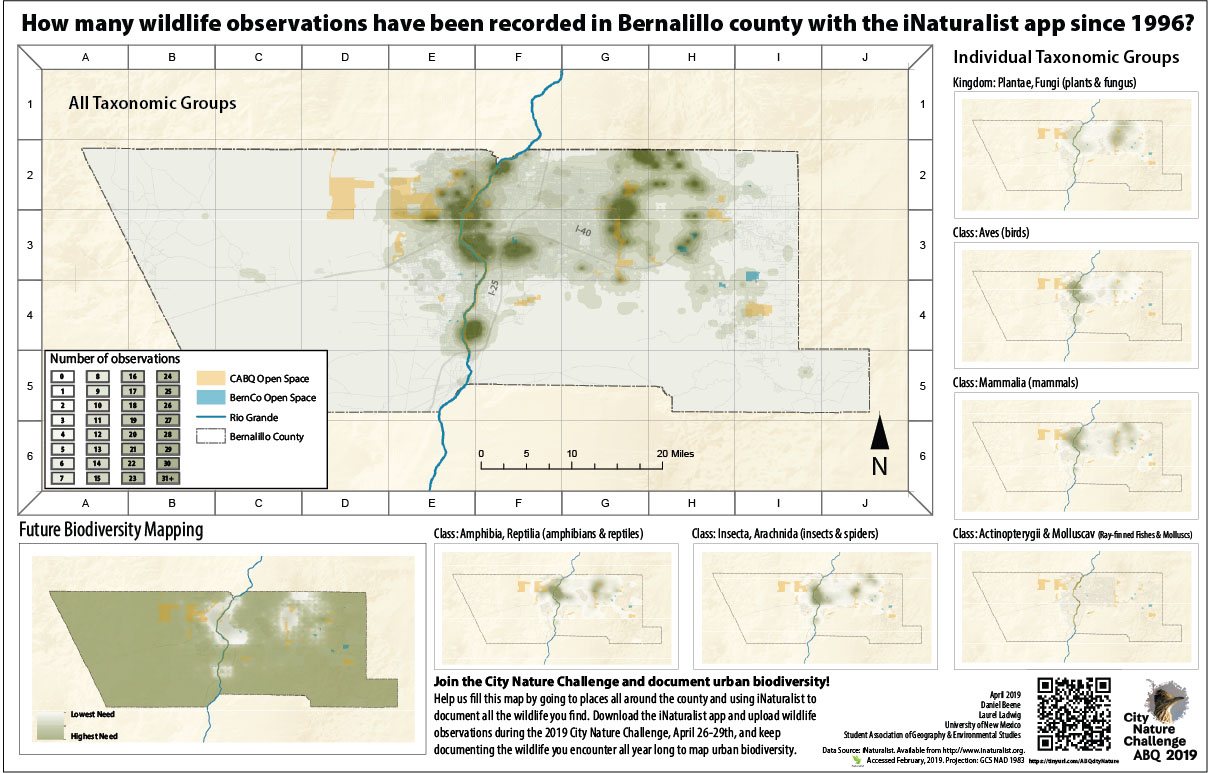 Ahead of the City of Albuquerque's participation in the City Nature Challenge later this month, GES graduate students Daniel Beene and Laurel Ladwig wanted to see where people have already been collecting data on plants and animals.
This is the first year that Albuquerque is participating in the City Nature Challenge, a competition among cities to observe and report the most species. Between April 26 and 29, participants can report plants, animals, fungi, slime molds, or any other evidence of life (scat, fur, tracks, shells, and even carcasses). Along with Selena Connealy, Ladwig is a volunteer orchestrator of this event, and the two are working with more than a dozen partner organizations to plan events and raise awareness of urban wildlife.
"I want everyone to get out and enjoy observing our amazing wild neighbors while documenting urban biodiversity in our community," Ladwig said. "I'm hoping people will want to keep making observations with iNaturalist all year long, and help to fill the gaps in our map where the wildlife has yet to be documented."
Beene explained that using 6,332 iNaturalist observations in Bernalillo County, they generated seven maps to illustrate the activity of hobbyist and professional naturalists who are using the app. (You can download the iNaturalist app, and then join the Abq City Nature Challenge here: https://www.inaturalist.org/projects/city-nature-challenge-2019-abq)
"The most important takeaway is that these maps do not represent the degree of abundant biodiversity in our county, but rather the position of people working to catalog it," he said, adding that they combined the observations into six groups representing birds, mammals, reptiles and amphibians, spiders and insects, plants and fungi, and fish and molluscs.
"Our goal in doing this is two-fold. First, it puts the array of these observations into perspective, and second, it helps our audience visualize the relative distribution of these subgroups," he said. "Each of the grouped maps are represented using the same symbology with discrete colors for numbers of observations in their respective cells."
Then Beene calculated the size of the cells, which can be thought of as a fishnet or grid on top of the map based on a ratio of the number of observations within each group and the study area size. "This is a mathematical calculation generally reserved for spatial statistics where the length of one side of a cell in the fishnet is equal to the square root of that ratio multiplied by two," he said. "By calculating the relative fishnet size for each group I can better relate them to each other in terms of broad spatial distribution across the county."
Then, after calculating the fishnets and counting the coincident points within each cell, he used ordinary kriging interpolation to generate a continuous surface of the observations. "Aside from making a set of more visually-pleasing map layers, this technique also represents the diffusion of observations in and around key spaces across our study area," he said. "Because the seven maps here are purely representative of human behavior, we included an ideal map of observations across the county – where every inch of ground is covered by rich natural observations."
During the four-day challenge, Ladwig noted that the City of Albuquerque, Bernalillo County Open Space divisions, Valle de Oro National Wildlife Refuge, and the Rio Grande Nature Center State Park will hold observation events. And the New Mexico Herpetological Society will be leading walks around the county.
To learn how to use iNaturalist before the competition begins, there will be iNaturalist training sessions at local libraries in April:
Saturday, April 6, 10:30 - noon, South Valley Library (3904 Isleta Blvd SW)

Sunday, April 14,

1 - 2:30 pm,

Cherry Hills Library

(6901 Barstow St NE)

Monday, April 15,

6 - 7:30 pm,

Taylor Ranch Library

(5700 Bogart St NW)

Wednesday, April 24,

10 - 11:30 am,

Juan Tabo Library

(3407 Juan Tabo Blvd NE)
On April 13 (9 am - noon), the Rio Grande Phenology Trail and Bosque Ecosystem Monitoring Project will hold an iNaturalist training and nature walk at the Bosque School.
Lastly, after the observation window concludes on Monday, April 29, the identification period begins. There will be a identification party at Draft & Table on Tuesday, April 30 from 4 - 7 pm, and another at Explora on Saturday, May 4 from 4 - 6 pm.
For more information on the City Nature Challenge ABQ visit Facebook and join the iNaturalist project page:  https://www.inaturalist.org/projects/city-nature-challenge-2019-abq
If you have questions or want to volunteer, contact Laurel and Selena at CNC.ABQ@gmail.com.